KSC Athletics Announces 2015 Hall of Fame Class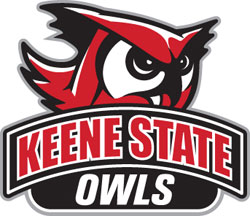 The Keene State College Athletic Department has announced the five members that make up the Hall of Fame Class of 2015. The class will be inducted in a ceremony on February 7, 2015 in the Mabel Brown Room in the Young Student Center.
The class features a pair of women's basketball teammates, an outstanding pitcher from KSC's baseball team, one of KSC's all-time leading scorers from women's soccer, as well as the first ever induction of a Keene State volleyball player.
Rick Pearce '92 was a three year member of the Keene State baseball team. A right-handed hurler from nearby Swanzey, Pearce was one of the leading lights for an Owl team in the early days of NCAA Division II competition. As the No. 1 pitcher for the Owls, Pearce used a strong combination of fastball and forkball to aggressively challenge opposing batters. When he graduated, he was KSC's all-time leader in earned run average at 3.47, as well as wins (10) and threw more complete games (11) than anyone in school history to that point.
Amy Zombeck '99 was a prolific forward during the first years of KSC's entrance into NCAA Division III. A transfer from Wheaton College, Zombeck bridged the gap between KSC's final days as a member of the New England Collegiate Conference and the Little East Conference. In her first year at KSC, Zombeck was an All-New England Collegiate Conference player. Her junior year coincided with the move to the LEC, where Zombeck spearheaded the Owl attack and added All-LEC and All-New England Honors to her name. Her senior year turned out to be the best, earning her All-LEC, All-New England, and All-American honors, as well as being named the LEC Player of the Year. She finished her career third all-time in points (107) and (42) goals, and her 18 goals in 1998 are the fifth highest single season total in school history.
Deb Hughes '03 is the first ever volleyball player inducted into the Keene State Hall of Fame. A 5-11 middle hitter, Hughes is still KSC's all-time and single season leader in attack percentage at .386, earning All-LEC Honors as both a junior and senior. During her junior year, Hughes ranked in the top 15 nationally in hitting percentage. In the fall of 2002, Hughes led the Owls to a 15-7 record, their first winning season since 1981, and helped the team to their highest finish to that date in the Little East Conference. Hughes' All-LEC honors as a junior and senior made her the first player in program history to win multiple All-LEC awards.
Jen Nowak '94 and Lynne Sullivan '94 go into the Hall of Fame together as a pair of high scoring forwards from the Owls' women's basketball team. Both served as captains while earning All-NECC honors as seniors. Coming to campus in 1990, the two made their presence felt, playing in every game as freshmen. In their sophomore year, Nowak and Sullivan continued to improve, and by their junior year, the two powered KSC to a second place finish in the highly competitive NECC, and a runner-up finish in the ECAC tournament. Sullivan finished her career with 1,264 points, fourth all-time when her career ended, while pulling down 714 rebounds, third most to that point. Nowak was seventh all-time in points when she graduated, with 1,171, and grabbed 702 rebounds, fourth all-time.
Tickets to the induction ceremony and dinner are $35 per person. For tickets and more information, please contact the KSC Athletics Department at 603-358-2813. Tickets can also be purchased online starting December 15.
Related Stories