Aussie Deegan Joins Swim Team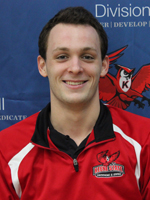 "I've never seen anything like it," said Chris Deegan, recalling the pre-Thanksgiving Day snowstorm that hit Keene and the Monadnock region last Wednesday. Come to think of it, he'd never experienced Thanksgiving before, either. With good reason: Deegan hails from Adelaide, an elegant city nestled between the hills and ocean in South Australia – about an hour's flight west of Melbourne.
Deegan, who came to Keene State to compete on the College's swim team, has seen snow before, once while skiing on the east coast of Australia and a second time when he visited New Zealand. But Wednesday's storm brought new meaning to the term "down under" for Deegan, who never thought he'd see himself buried under a foot of snow. "It doesn't snow in Adelaide," he said. "I've been told I'm in for a real treat."
This time of year, folks in Australia are putting on bathing suits and waxing up surf boards as the country begins its summer season. "We don't have White Christmas," said Deegan. "Christmas for us is more about barbecues and sitting outside in the sun with your family. If it gets down to freezing overnight, people will freak out."
It might be a lot colder in Keene, but Deegan is heating up the temperature of the Spaulding Gym pool. The dedicated swimmer has yet to lose in his signature 1,000-yard freestyle event, winning his first college race against Roger Williams University and touching the wall first in dual-meet wins against Springfield and Wheaton and against Tufts and Middlebury. "Chris had to go through an adjustment period, but he's improving every meet and weathering through it," said Keene State Coach Jack Fabian.
A sport enthusiast growing up, Deegan was a late arrival to the pool, preferring to play the highly popular cricket (a distant cousin of baseball) and Australian Rules football, a mix between rugby and soccer with little padding and a lot of contact. Deciding not to tempt fate and risk injury, he gave up football in favor of swimming. "I was never going to be a champion cricket or football player," reasoned Deegan. "I was getting good results in the pool, and that inspires you to keep going."
Good results were an understatement. Deegan won the Australian Championship gold medal in the 10K open water race for 16-year-olds, earning him a spot on the Australian Junior Swimming Team for the event at the 2012 Junior Pan Pacific Swimming Championships in Honolulu. A year earlier, he was ranked third among 15-year-olds in the short course 1,500m freestyle and represented the state of South Australia in Athletics (1,500m, 3,000m) at the 2011 Australian Schools Athletics Championships in Brisbane. Deegan also competed in the 200m breaststroke at the 2012 Australian Olympic Swimming Trials in his hometown of Adelaide.
Although he looked at colleges in his home country, Deegan felt he would have a better opportunity to reach his potential in the United States. He contacted several college coaches, including Fabian. "I knew Coach Fabian worked with the US National Open Water Team and had a great reputation for working with distance swimmers," said Deegan. "He's a world-class coach."
Fabian was taking no chances in trying to reel in a big fish like Deegan. In addition to doing his due diligence, soliciting help from a coach he knew from Perth who was familiar with Deegan, Fabian also asked a couple of his blue-chip recruits to contact Deegan. "Jack came up to me and said, 'We're recruiting this kid from Australia – it's a long shot but I'd like to get him to come here,' so I started emailing him," said John Dolan, a freshman from Westfield, MA.
"I'm always up to help Jack because he's a great coach and a great guy," said Bobby McDowell, a freshman from Wilton, CT. "And, of course, looking at Chris's experience, I knew he would be a great guy to have on the team."
After several successful Skype interviews and numerous email messages, Deegan decided to come to Keene State. "It was just an awesome strategy on Jack's behalf to get me to come here," said Deegan. "None of the other coaches did this for me. It was a really nice gesture by them and Jack."
Deegan said it wasn't easy leaving his homeland and family. "I'm not going to hide the fact that I was scared. It's such a massive move – leaving everything and your home behind. It's impossible not to be," he said. "I eventually said I had to give it a crack and if it doesn't work out, so be it."
Arriving in mid-July to get acclimated, Deegan finally got to meet his future roommates Dolan and McDowell and begin training. Deegan faced his share of adjustments in the pool, not only getting used to swimming a different distance (yards as opposed to meters) and new training methods but also keeping up with All-America and training partner Shahar Resman, the Owls' other international swimmer, who is from Israel. "I'm just happy if I can keep him within site," said a smiling Deegan, who also swims the breast stroke and individual medley. "I'm always looking to see what he's doing so I can improve. He sets the benchmark."
Deegan has been a hit with his new teammates. "The team has been really great with him. They get along real well," said Fabian. "They think it's really cool to have these guys from different countries on their team."
Deegan has adjusted out of the pool as well. While he's done his part to dispel the misconception that everyone from Australia is Crocodile Dundee, a character in a 1986 Australian comedy film, there are certain traits harder to eliminate, including the distinct lingo.
"Sometimes I can't understand a thing he says," confessed Fabian. "One time at practice I asked him how he was doing and he told me he was stuffed. So I said to him, 'Don't eat so much before practice,' and he gave me a strange look. As it turns out, 'stuffed' means really exhausted. I'm learning as we go."
Deegan is also doing his best to acclimate himself to American sports. While he still favors cricket and Australian Rules football, he's starting to get into American football as well. "Chris hasn't picked a favorite team yet, but when one of his players is doing well, he gets all over it," said McDowell. "He's really enjoying his time here so far."
A psychology major at KSC, Deegan said it will be hard spending his first Christmas away from his family, but he feels the sacrifice is well worth it. "I have one of the best open water coaches in the world, and he's helped me improve," he said. "I came here to realize my potential and hopefully I can do that."
Related Stories