Global Engagement Class Will Head to India in December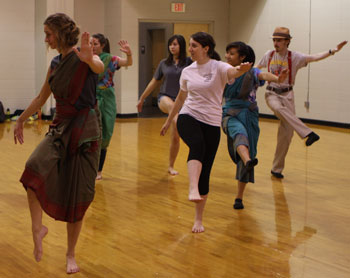 Assistant Professor Chitra Akkoor is heading home for the holidays and taking a few folks with her. But this is no ordinary trip. Home happens to be India and her companions happen to be eight members of her Morris-August Honors Program Global Engagement class.
Akkoor, who teaches in the Colleges' Communication and Philosophy Department, along with Jonathan Schwartz, a film studies faculty member, will accompany the students on the 17-day trip that begins two days after Christmas.
"It's been my dream for a long time to take a trip like this with students," said Akkoor, who grew up in Dehradun, a small city located at the foothills of the Himalayas in northern India. "Until you actually go to a place you can't truly experience it."
Each student in the honors program, funded by the William T. Morris Foundation, is required to enroll in a Global Engagement course, where they not only spend a semester learning about a country, but also get a chance to visit it. When students found out that one of their options was a trip to India, they jumped at the opportunity.
"When I heard about the trip, I wanted to go," said Jessica Schaper, a sophomore English major from Tomkins Cove, NY. "It's a fascinating place that not too many people have a chance to visit."
"It was the perfect trip that I could throw myself into. I love the color and the culture," said Katie Gillum, a junior from Hudson, NH, who has an unusual dual major of biology and Holocaust and genocide studies.
The students will spend the first part of their trip in Kochi, a major port city on the west coast of India by the Arabian Sea. It's a part of the district of Ernakulam in the state of Kerala. According to Akkoor, the region is noted for its historical significance and being a place where people with diverse religious faiths, including Jews, Hindus, Christians, and Muslims, intermingle without conflict.
The next stop on the itinerary is Bengaluru (formerly known as Bangalore), the fourth-largest metropolitan area and the capital of the southern Indian state of Karnataka. Students will have the opportunity to contrast the area's ancient architecture with present-day India, which includes business processing outsourcing (BPO) companies that have become a major part of the country's globalization. The students will also go to Delhi, where they will visit the Islamic sites, and Agra, the home of the Taj Mahal. "I want the students to realize that India is a land of stark contrast and contradictions," said Akkoor. Telling her students "to make of it as you want, but go in with an open mind – absorb and see what you can learn from it. That's what this course has been about."
Before stepping foot in India, the students step into the classroom, spending the fall semester learning about India, the second-most populous country with over 1.2 billion people and the most populous democracy in the world.
Instead of suggesting subjects and areas of discussion, Akkoor has left it up to the students to pick topics of interest. "Sometimes in academics we are so focused on our own research. We come from only that perspective and it becomes very narrow and we expect the students to fit into that," she said. "I went with the approach: What are you interested in? What is it that excites you? What would you like to see? That's why I kept the trip itinerary fairly open. I knew the places we were going to, but I didn't want to impose my interest on students."
One of the most interesting assignments in the class is called "Hot off the Press," in which students pick articles to read in an Indian newspaper, writing papers and posing questions that are used as jumping-off points for discussion in class.
India's rich and diverse culture is also a popular topic. Students not only discuss subjects such as architecture and religion, but have sampled Indian cuisine, tried on sarees, and learned dance steps, facial expressions and hand gestures during a workshop Akkoor conducted for her students. "I showed the students a tape and they really wanted to try it," said Akkoor, who has been dancing since the age of four and is trained in two of India's six classical dances.
"I think I had the best time," said Eryn Ryan, a junior biology major from Albany, NY. "It connected me with their culture."
While the focus of the class centers on gathering information, it's also about dismissing some common beliefs. "Most of our study-away programs are in Europe, and that's understandable considering the comfort level. But there's also the stereotype and perception of the developing world being unsafe. I'm trying to dispel those stereotypes," said Akkoor.
Akkoor said the media also highlights poverty and inequality in the country. "I want to show my students that there are many other facets to India, a rich cultural heritage and a thriving economy. It's an important global player in many aspects."
Akkoor is encouraging her students to get to know India and its people, who she said are receptive to answering questions from students. After writing a pre-requisite paper based on research, students will expand on their topics once they get a chance to actually study and observe Indian society.
"I want it to be a trip of discovery – I don't want to over-prepare them and I don't want them to see it from my perspective," said Akkoor. "I want them to discover and make their own conclusions."
Related Stories