Communicorps Enhances the Compass School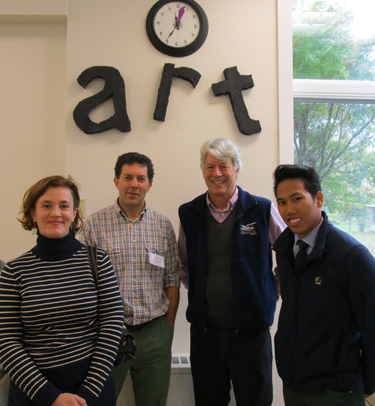 Some big accomplishments start small. Back in 2010, the Compass School, an independent day school in Westminster, Vermont, decided it needed to build a modest yurt-style building to house its art program. Keene State's Associate Professor of Architecture Peter Temple realized that this would be a good design challenge for one of his Communicorps teams, who, as part of their coursework, plan buildings, additions, and renovations for community organizations in the Monadnock region.
After the Communicorps team met with the Compass School's students and staff, they "pushed for a bigger vision so the facilities on the outside would reflect the quality inside," according to Rick Gordon, director of the Compass School. The Communicorps students realized that the school needed more than just a new arts space and proposed a more inviting entry and exterior, better traffic flow and landscaping, field space for outdoor recreation, increased storage space, and improved energy efficiency. "As the first step of the design process, we helped them start a discussion of bigger-picture, longer-term goals for the school, and the scope of the project expanded in accordance with their expanded vision," recalled Raven Muller '14, a member of the Communicorps team.
The school received a loan from the United States Department of Agriculture (USDA) Rural Development Community Facility that let them construct a 900-square-foot art lab, a new science lab and administrative offices, numerous small study rooms, a new library, new lighting throughout the building, a covered entryway, a sports field, and improved furnishings throughout the school.
"This experience helped prepare me for the future in that it gave me my first taste of the client/architect relationship," said Communicorps team member Fritz Henning '14. "That it's not about telling the clients what they want to hear, or what they need to hear; rather, it's a fluid discussion of what needs to be addressed and how best to convey that. Working with the Compass School also allowed me to see first hand how an idea of mine became a structurally sound edifice, that students can enjoy for years to come."
Related Stories