Lucy Briggs: Knocking Down Barriers and Building Bridges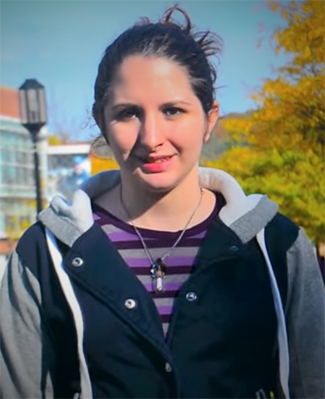 Lucy Briggs has spent her entire college career advocating for support, acceptance, and understanding of the LGBTQ (lesbian, gay, bisexual, transgender, and queer)  community at Keene State. So it wasn't a surprise to see the senior from Peterborough, NH, chalk in hand, joining other members of KSC Pride (an LGBTQ and ally student alliance) writing love notes to Keene State and the greater Keene community on Appian Way Monday night.
"KSC Pride decided, in the wake of the events that happened, to publicly write notes to the college and the Keene community, and open the event up to any student, staff, and faculty on campus," said Jamie Landau, assistant professor of communication and philosophy, as well as the advisor for KSC Pride. "You can tell by their heartfelt comments that the students still love the College and Keene, and wanted to voice that concern."
While the notes ran the gamut from funny to touching, Briggs' note featured a big heart that simply read: "I Love Keene State."
"This is my home. This is where I've got the inspiration to go out and help society," said Briggs, who serves as the public relations director for KSC Pride. "This is our community and we want to show people that we love it and we are happy and proud to be a part of KSC."
Briggs, a communication major who is minoring in women's and gender studies, takes pride in what she has accomplished, not only on campus, as a mentor, facilitator, and leader of groups looking to discuss important social issues, but out in the community.
Begin pull-quote…

"This is my home. This is where I've got the inspiration to go out and help society,"

…end pull-quote
As part of a service-learning communication course last fall, Briggs and several students worked with a local non-profit  organization called PGLAG-NH (Parents, Families, and Friends of Lesbians and Gays of New Hampshire). "Lucy stood out as a leader among all the students in that class," said Landau. "PFLAG's director was so impressed that she wanted to hire Lucy as an intern."
Briggs is also working currently with other Keene community members and Keene State faculty and students to fundraise for a new hospital that will be built in Rwanda for LGB people who are persecuted in that country. Most recently, Briggs and KSC Pride Vice-President Heather Aldrich traveled to Kingston, where they ran an educational presentation for the New Hampshire chapter of GLSEN (Gay, Lesbian, and Straight Educational Network). GLSEN works to ensure that LGBT students are able to learn and grow in a school environment free from bullying and harassment.
"I've seen Lucy's work in action, both in the classroom and outside of it, and she is one of our signature students who really cares about the community and cares about social justice. She is very other-centered and not self-centered," said Landau. "I can't keep up with her; she's involved in so many clubs and always doing so much."
Connected to KSC
Briggs, who also works as a media intern for the Cohen Center for Holocaust and Genocide Studies, said Keene State has opened many doors for her. "I grew up at Keene State, and it helped me grow into the human being I am," she said. "I've really learned so much about myself and what I love to do."
Briggs's connection to Keene State goes back to her childhood, when she used to walk around campus with her parents, KSC grads Mark '83, and Penny '84, and sister Megan, who earned an education degree from Keene State in 2013. Now a senior looking forward to graduating in the spring, Briggs is utilizing her skills and experience, not to mention her penchant to resolve issues through education, to deal with the impact of the Keene Pumpkin Festival riots—an event that she said hit home with her, both as a KSC student and as a local resident.
"I'm not saying it's going to happen tonight, but at least we can start to heal those wounds and try to build bridges and move on and move forward," she said. "It's a great college and a great community, and I love being part of it."
While the love notes written on Appian Way will eventually fade away, the sincere feelings and genuine support expressed by the Keene State students for the college and the local community will continue to brighten as the days go on. In fact, it's well under way—check out this recent piece in the Equinox, and don't miss the "Equinox Mulitmedia" video in the right column.
Related Stories