Keene State Theatre and Dance Presents "Proof"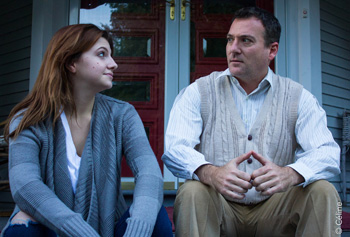 Proof, a contemporary drama that uses the logic of mathematics to frame the struggles of a family, will be presented Tuesday to Saturday, November 11 to 15, by the Keene State College Theatre and Dance Department. Performances start at 7:30 p.m. with a 2 p.m. matinee on Saturday, November 15 in the Wright Theatre of Keene State's Redfern Arts Center. Tickets are $10 for the general public, $8 for senior citizens, and $6 for KSC students. Call the box office at 603-358-2168 or order online at www.keene.edu/racbp.
Proof by the American playwright David Auburn, was one of the most acclaimed plays of the 2000 season winning a Pulitizer Prize for Drama and a Tony Award for Best Play. The drama explores the unknowability of love as much as it does the certainties of mathematics. The play follows a woman, who has been the long-time caregiver of her father, a recently deceased mathematical genius and college professor, who struggled with mental illness. Upon the father's death, his ex-graduate student discovers a paradigm-shifting proof about prime numbers in the professor's office.
"Proof is a beautiful piece in terms of what is says about how we know ourselves and how we know others," said KSC Theatre faculty member Timothy L'Ecuyer, who directs the Keene State production. "It's about faith and the dangers and benefits of taking someone at his or her word even though you can't prove it."
The play also touches on the changing roles of parents and children and what's at the heart of a family. It has to do with the logic of mathematics and the illogical or uncertain aspects of mental health issues and emotional ties.
"It also has its light moments, its genuine ups and downs. You really get to empathize with these characters," said L'Ecuyer. "I think this play will resonate with a college-aged audience, in the midst of navigating a lot of uncertainty themselves. The play asks how we cope and thrive in the midst of uncertainty."
The four member cast includes KSC students Ryan Connell from Beverly, Mass. who plays Catherine; Matthew Geary from Exeter, N.H., who portrays Hal; Meg Lacey from Holliston, Mass., who plays Claire; and Keene State Music Professor Daniel Carberg of Keene, who plays Robert. KSC senior Michael Portrie of Hampton, N.H., is the stage manager.
About Keene State Theatre and Dance Department
The Department of Theatre and Dance is dedicated to providing a comprehensive course of study that balances theory and practice within a sound liberal arts education. The collaborative nature of theatre and dance disciplines fosters an atmosphere in which students work closely with peers and faculty to gain practical experience in all facets or production and critical engagement. As artists and teachers, our primary focus is to encourage and guide our students as they find their creative voices and experience and question the world through the arts. For more information about the Theatre and Dance Department, visit http://academics.keene.edu/tad or call 603-358-2162.
Related Stories