Tyler K.C. Rines '12, from KSC to Montpelier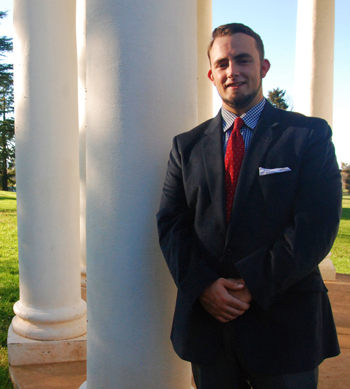 After he graduated from Keene State with a BA in sociology with minors in criminal justice and political science, Tyler K.C. Rines '12 went on to graduate school at James Madison University in Harrisonburg, VA. Something about James Madison, the father of the Constitution, architect of the Bill of Rights, and fourth president of the United States, must have made an impression, because Rines went on to become the assistant director of major gifts for The Montpelier Foundation, the nonprofit organization that manages Montpelier, Madison's famous home in Orange, VA.
"At the foundation, I support fundraising endeavors at the $25,000+ level, with a special focus on leadership gifts and corporate and foundation giving," Rines explained. "I also help plan and execute major events, like the Dolley Madison Legacy Luncheon, the Montpelier Hunt Races, and the Annual State of the Constitution Lecture held in Washington, DC. One of my biggest areas of responsibility is directing the prospect research within the Advancement Department. Promoting civic engagement while working at the nexus of fundraising, nonprofit management, and historic preservation truly is a dream come true!"
Did KSC play much of a role in his journey? "My years on campus were truly transformative," Rines remembered. "I made countless friends, helped put on events like Pumpkin Lobotomy, Chalk Talk, and Red and White Night, and was able to give a voice to student and faculty concerns through student government. It was at KSC that I served as a resident assistant, collaborated with faculty on exciting research projects, developed public-speaking skills, presented at academic conferences, and walked miles in high heels (I don't know how you do it, ladies) to bring awareness of sexual assault and gender violence. KSC is where I learned to be an insatiable scholar, a curious social scientist, and an engaged citizen."
Related Stories