Lemek Overcomes Loss with Community Service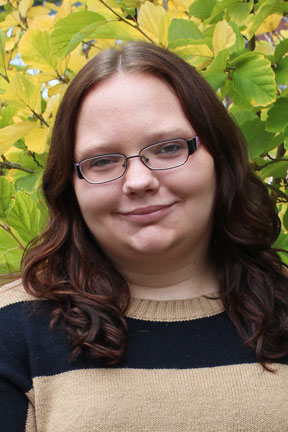 Claire Lemek came to Keene State College with several salient goals she wanted to accomplish before heading out under the arch on Appian Way and beginning her teaching career. First and foremost, she wanted to do well in the classroom and earn her degree in elementary education/American Studies. While making new friends and experiencing the wonder years of college was high on her agenda, she also put a high priority on community service, giving back to others, especially when it came to the American Cancer Society.
Now a junior at KSC, the Easthampton, MA, native, who currently lives in Ludlow, is well on her way to accomplishing those goals.
It isn't a big surprise that Lemek decided to major in education. Her family is full of aunts, uncles, and cousins who work or have worked in the field. "I always knew that I wanted to be a teacher," said Lemek, who was a frequent after-school visitor to her recently retired aunt's classroom. "I love working with kids and definitely view education as an important job."
A person who enjoys the companionship of a close circle of friends, Lemek joined Delta Xi Phi, enabling her to not only build strong relationships with a small group of sorority sisters, but also to devote more time to community service, especially the sorority's philanthropy, the American Cancer Society. "I love having sisters and the feeling of having a second family up here," said Lemek, who serves as the community service and fund-raising chair for Delta Xi Phi.
Having a second family at Keene State is very comforting and reassuring for Lemek. At the age of 11, she lost her mother, Cathy Truehart Lemek, to thymus gland cancer, a rare disease that affects the body's immune system. Her father, Michael, has been battling Parkinson's disease since she was young.
"It was a difficult period when she lost her mom, especially when you're having things in school," said Darcy Truehart, an aunt to whom Claire is particularly close. "Everything involves your parents, and her parents couldn't be there. But she did really well with that. If she wanted us to be the parent we would. Her father has done an outstanding job despite his disability. He gives her as much of a normal life as he can give her, which is really fortunate."
Claire has fond memories of her mom, who worked as a florist in Easthampton. "She was just a really lovely person," said Lemek. "She just had this contagious laugh that everyone loved and was a big part of our community."
And the community continues to support the Lemek family, including Claire, 20, and her younger sister, Grace, who just turned 17. Right after Cathy Truehart Lemek's death, family members started an education fund specifically for her two daughters.
Money for the fund is raised at an annual golf tournament in Northampton, aptly named the "Pink Flamingo" Tournament because of Cathy's use of plastic flamingos in her floral themes. Many of the golfers dress in pink for the event. "The whole community supports the tournament because they all knew her mom and now know Claire and Grace," said Truehart. "It's been 10 years and they still give to the cause."
The family also provides a scholarship in the name of Cathy Truehart Lemek – the Truehart Award – that is given to four deserving seniors at Easthampton High every year.
While Lemek doesn't have her mother's flair with flowers, she does possess a compassion and desire to help others. "From the time Claire was born she was just a very special person," said Truehart. "After she lost her mom, she really cared for her sister Grace. She got right in there like she was the mom. That's the way she is – she tries to be helpful with everybody."
Lemek was very appreciative of the support that the American Cancer Society provided her and her family following the loss of her mother. She wanted to give back. She immediately got involved with the society, taking part in the Relay for Life event at Ludlow High. "I just love doing it," said Lemek, who also joined the school's community service club. "I love giving back to them and giving back to the community in that area, knowing I'm supporting my family and honoring my mom through this experience."
"Claire is an extraordinary young woman who was faced with the loss of her mother at such a young age. No child should have to endure that loss and pain," said Traci Heath, the former community executive for development for the American Cancer Society in western Massachusetts. "Claire exemplifies strength, courage, and determination to honor her mother with a legacy of making a difference in the lives of others. She's a true angel."
Lemek knew the minute she arrived at Keene State it was the right place for her. "Once I got onto campus and took the tour, I knew it was the place for me. It just felt like home," she said.
Immersed in her studies and her work with her sorority, Lemek spent time abroad last spring, taking classes at York St. John University in York, England. Regardless of her busy schedule, she always finds the time for the American Cancer Society. "My most rewarding experience has been my work with the American Cancer Society. Since coming here, I've been on a committee for the College's Relay for Life each year and I absolutely love it," she said. "I love being able to put my heart and soul into such a great cause and to see how the event turns out each year. It's always gratifying to know my hard work made it possible."
Related Stories