Photographer Paul Shambroom speaks at Keene State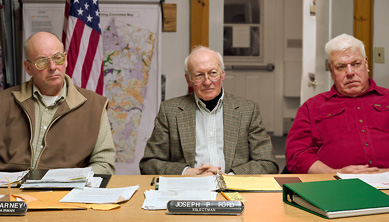 Photographer Paul Shambroom and New York artist Aaron Landsman will discuss their mutual interest in civic engagement in their respective works City Council Meeting and Shambroom's book Meetings. City Council Meeting was inspired in part by Shambroom's documentation of meetings from around the country. The talk will cover their work together on City Council Meeting's October 29 performance in Keene as well as future plans for collaboration. Their public talk will begin at noon, Thursday, October 30, in the conference room of the Thorne-Sagendorph Art Gallery at Keene State College. The event, presented by KSC's Redfern Arts Center and the Art Department, is free and open to the public. For further information about the talk, contact Sharon Fantl, 603-358-2167 or sfantl@keeene.edu.
This talk coincides with the Thorne Gallery's current exhibit Light Works: A Century of Photography, which spans the history of photography from studies of animal locomotion to contemporary prints.
Paul Shambroom is a photographer who explores American power and culture. His work is in the collections of many major American museums and has been exhibited internationally. His photographs have been published in three monographs: Paul Shambroom: Picturing Power (2008), Face to Face with the Bomb: Nuclear Reality after the Cold War (2003), and Meetings (2004). Shambroom's Meetings is a collection of 40 photographs of government meetings along with copies of the meeting minutes. It is part of his long-term investigation of power begun in previous series on nuclear weapons, factories and corporate offices, and currently on homeland security training and preparation.
"A common impulse in these projects is my quest as one individual to understand and illuminate seemingly overwhelming and abstract power systems," Shambroom wrote in the book.
Shambroom's meetings project caught the attention of Aaron Landsman, as he was looking at the theatrical aspects of government meetings and creating City Council Meeting: Performed Participatory Democracy, which will be staged Wednesday, October 29, at 7 p.m. in Keene Public Library's Heberton Hall. Admission is free, but tickets are required because seating is limited. For tickets, contact the Redfern Box Office at 603-358-2168.
Landsman is a playwright, performer and teacher based in Brooklyn, N.Y. and Urbana, Ill. His work is often presented in places where people perform their lives - homes, offices, barrooms and pavement.
Shambroom has received fellowships from the Guggenheim Foundation and the Creative Capital Foundation, among others. A survey exhibition of Shambroom's major projects traveled to museums throughout the U.S. in 2008-09. His work has appeared in the Museum of Modern Art in New York, the San Francisco Museum of Modern Art and many other galleries. Shambroom, lives in Minneapolis, and is currently on the faculty of the Department of Art at the University of Minnesota, Minneapolis.
This performance of City Council Meeting is a collaboration with the Keene Public Library and was made possible with funding by the New England Foundation for the Arts' National Theater Project, with lead funding from The Andrew W. Mellon Foundation. The public programming for this project was made possible with support from the New Hampshire Charitable Foundation and the New Hampshire Humanities Council, in partnership with the National Endowment for the Humanities.
About Redfern Arts Center at Keene State College
The Arts Center is named in honor of Dr. Leo F. Redfern, Keene State College President from 1969 to 1979 for his vision, commitment, and eloquence on behalf of the arts that made funding and construction of the facility a reality. In 1981, KSC inaugurated this new performing arts center, with the goal of providing unforgettable artistic encounters for the campus and community. Now in its 33rd year, the Redfern Arts Center at Keene State College presents and fosters dynamic, multifaceted arts experiences through performances, residencies, and related programs that deepen the connection between the arts and audiences, both from the campus and the greater Monadnock region.
Related Stories