Cipolla And Botti: A Pumpkin Fest Proposal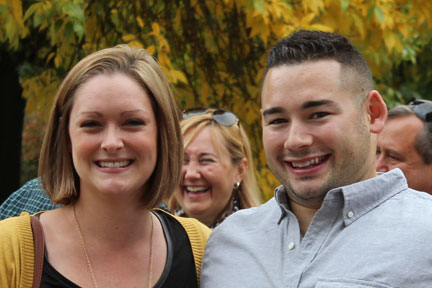 A top receiver for the Keene State College baseball team, 2010 graduate Anthony Cipolla made his share of great catches during his four-year career with the Owls, but none bigger than during Keene's Pumpkin Festival on Saturday, when he proposed to fellow KSC grad and softball player Haley Botti, class of 2012, under the archway on Appian Way.
"It's probably one of the craziest feelings I've ever felt in my entire life," said Cipolla, who is from Glastonbury, CT. "We met five years ago at Pumpkin Fest and I couldn't think of any better place to ask Hayley if she wanted to spend the rest of our lives together."
Botti said she got a little suspicious going down Appian Way. "As we walked here, I had a sense something was going on because he was acting very quiet and very weird, but I had no idea all these great people would be here," said Botti, who is from Dracut, MA.
At the end of Appian Way were a gathering of family and friends – and nine pumpkins sitting on bales of hay with the words: "Haley will you marry me?"
"I almost fainted," said Cipolla. "She kept on looking at me – What's wrong? But I'm better now. She said yes. That's all that matters."
In addition to providing good advice and strategy to Cipolla on the diamond, Keene State associate baseball coach Marty Testo had also introduced Anthony to Haley. "He told Anthony that 'You're going to marry this girl,'" said Cipolla's mother, Kathy.
Cipolla had been thinking about popping the big question for some time. "Anthony called me about four weeks ago from a jewelry store," said Kathy Cipolla. "He said that Haley is the love of his life and he wanted to spend the rest of his life with her. Both my husband, Frank, and I love her so much. We're so happy."
"I was just so happy for her," said Haley's mother, Lisa. "She was excited. Anthony actually came and asked permission, which was really sweet." "Anthony was calling all weekend, so I knew something was up," said Haley's dad, Steve, who is an electrician. "Haley was home at the time, so he told me he had some electrical problem so she wouldn't get suspicious. He wanted to meet me the next night at a pub in Dracut. I made him sweat a little until I came over to him. He had a big speech written out, but I told him to save it."
Several friends and Keene State alumni were on hand for the pumpkin fest proposal, including Cipolla's roommates Patrick Norton '11 and Seth Stantial '11, as well as Beau Darak '09, Brett Savard '10, Abby Rosen '10, Brandon Marenna '11, Sammy Wyman '11, and Elizabeth McNamara '12.
Asked if he had given any thought to a marriage date, Cipolla said that right now he planned to celebrate the engagement and take in the moment. Cipolla, who was a physical education major, is currently an elementary school teacher in Peterborough, NH, while Botti is working as a graphic designer in Windham, NH.
Related Stories