Silegy Soccer Legacy Continues at Keene State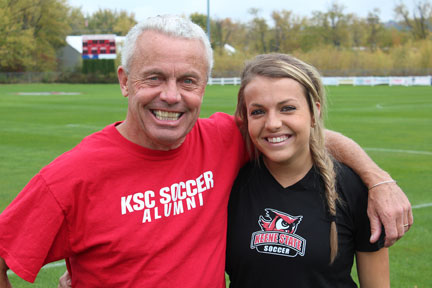 It took 39 years, but a Silegy has finally returned to the soccer field at Keene State College. Following in the soccer steps of her dad, Tod, who played for the Owls from 1972-1975, Katie Silegy, a Keene native, decided there's no place like home and joined the Keene State women's soccer team this season.
"I thought it was a great choice," said Tod about his daughter's desire to attend Keene State. "You're far enough away but you're close enough to home. She's going to have the chance to grow up and spread her wings."
Katie, who lives on campus, said she ultimately made the decision to enroll at the college, but appreciated her parents' opinion. "I'm a very indecisive person and I need people's input," she said. "Obviously, my dad had a little pull, but my parents are going to do the best for me. They wouldn't make me go somewhere where they knew I'd be unhappy."
Actually, Katie isn't the first member of the Silegy family to follow her dad to Keene State. Katie's older sister Emilee has played on the Owl women's lacrosse team the past two years, but has decided not to play this season due to lingering issues following ACL injuries her junior and senior years at Keene High.
A lot has changed at Keene State since Tod Silegy packed up all his sports equipment and headed down Route 101 from Peterborough to Keene. Six different presidents have taken up residence in the Hale Building, for example, and the soccer programs have switched affiliation three times and moved across the street from Joyce Field to Owl Athletic Complex.
You name it and Tod played it growing up in Peterborough. In addition to standards like baseball and basketball, Silegy was also an adept skier. "My dad did some marketing for Temple Mountain and came up with the slogan 'Ski More Drive Less – Ski Temple Mountain,'" said Silegy. "We had lifelong passes there and I used to race all the time."
Captain of the first soccer and basketball teams at ConVal Regional High School, Silegy was recruited to Keene State by basketball coach Glenn Theulen and soccer coach Ron Butcher. "Soccer preseason was over my freshman year and Ron caught me in the hall within earshot of Glenn and he said, 'Tod, I still have a uniform for you.' I was going to do it and then Glen came out and said, 'Tod, you can't do both' – so I chose basketball."
Silegy switched to soccer the following year and became a mainstay in the Owls' backfield. A stopper, playing in front of current Keene State coach Rick Scott in his final three seasons, Silegy, sporting a big curly mop of hair, helped KSC become one of the top teams in New England, posting a combined 63-10-6 record, including two trips to the NAIA National tournament during his four-year tenure.
"Sil was a very steady player who made things happen," said Butcher. "He wasn't afraid to mix it up. At times, he'd instigate something and Scott was always there to help him out."
Down but not out, Silegy, who also played baseball at KSC, got his degree in physical education from Keene State in 1976. "I owe a lot to Keene State. I'm not going to lie to you," Silegy confessed. "Once I grew up it was the best thing that ever happened."
Briefly living in Salt Lake City, Silegy returned to the Keene area, serving as junior varsity coach for Scott, who had taken over as head soccer coach at Keene High. Fittingly, Scott coached Silegy's brother-in-law, John Schumann, who became an All-New England and All-State player, while future KSC baseball coach Ken Howe was Silegy's starting goalie.
One year later, Silegy found himself at Franklin Pierce College, where he served not only as head soccer coach, but also as head ski (Nordic and alpine), golf, and tennis coach – not to mention assistant basketball coach as well as resident director and assistant athletic director.
Silegy eventually built a soccer program that became one of the best in the powerhouse Division II New England Collegiate Conference, while forging an intense rivalry with his alma mater, Keene State. "In all honesty, I wasn't really comfortable with the rivalry and never really liked it," admitted Silegy. "It was just too intense; going against your old coach, living in Keene and working at the Keene State camp. "I didn't want to lose and I was never that super elated that we won. I had no solace in that, but I was glad it was over."
After spending 22 plus years coaching the Raven soccer team, posting a highly respectable 258-131-28 record and leading the team to eight consecutive NCAA tournament appearances, including a trip to the final four in 1991, Silegy moved on to the South Meadow Middle School in Peterborough. "I tell everyone that Franklin Pierce prepared me to coach and teach at middle school," said Silegy. "I didn't think it was demeaning. I didn't think it was beneath me. I looked at it as an opportunity – it was a five-day-a-week job, no nights, and no going to foreign countries. With three young kids I was able to transition from this intense crazy coach to becoming a father – so it was a blessing."
Mentored by SMS principal Richard Dunning, a Vietnam vet and his former baseball coach, Silegy has thrived at South Meadow, where he serves as athletic director, innovative physical education teacher, and coach of the school's successful boys' soccer team. "I coach them like I coach college kids," said Silegy, who was named the Middle School Physical Education Teacher of the Year in 2011. "We have a great relationship and I love giving them what I've got."
Silegy also coached his two young daughters, who were beginning to demonstrate the natural sports ability of their dad. Emilee dabbled in basketball and soccer before finding her niche in lacrosse, while Katie was a soccer girl from the start. "Katie just picked it up – she was just a natural," said Silegy. "She was both left-footed and right-footed like me and had very good field awareness and could strike a ball very well." "It was awesome having my dad as my coach," said Katie Silegy about her years playing for the Premiere Club. "He taught me everything I know."
Katie got indoctrinated to Keene State at an early age, playing micro indoor soccer in Spaulding Gym before graduating to Keene State's summer soccer camp, where she got to meet Owl women's coach Denise Lyons and several future teammates. She was also a frequent visitor to the Owl complex growing up, watching local players like Brittany Croteau and Kristen Huckins, whom she played with over the summer.
Katie had a fine career at Keene High, where she was a four-year starter, a two-time MVP, and an All-State honorable mention selection as a senior. Unlike many recruits, Katie had the luxury of knowing not only the coach but several teammates, like Dannielle Warhall, Kali Santino, and Shannon Summers, whom she played with in high school, and also Shannon Hart from her club team. "It's cool to be playing with them again, "said Katie. "We still have the same vibes on the field."
Unfortunately, Katie's soccer career at Keene State didn't get off to a stellar start. A few days into preseason, she took a hard fall during a drill, suffering a bruised liver and gall bladder.
Missing the first half of the season, Katie is playing catch-up, trying to get back into shape and help the Owls as they prepare for a tough stretch of Little East games.
Lyons is also anxious to see Katie back on the field. "Katie is just a very solid center mid and I can't wait for her to come back," said Lyons. "Hopefully she can come back and gives us some significant minutes."
Lyons got her wish when Katie, in her second game back, scored the game-winning goal in the Owls' 1-0 shutout win over Rhode Island College on Oct. 4.
These days Silegy, who takes pride in being the oldest guy on the field during Keene State alumni soccer games, enjoys coming over to games and watching his daughter and the many Owl players he helped groom for college careers.
But Silegy also knows it's important to keep his distance. He refrains from critiquing Keene State players and teams and understands that Katie needs to form her own identity on the team. "She was a little worried about the Silegy legacy and I get it," said Tod.
However, that doesn't prevent Silegy, his wife, Beth, and son Sam, an inspiring artist at Keene High, from giving back, hosting the Keene State women's soccer team for a dinner last Friday. "I hope that gives them a little edge for Saturday's game" said Tod.
The dinner proved to be a good omen. The following day with the game still in the balance, Katie netted her second goal of the season in the Owls' 3-1 win over UMass-Dartmouth.
After all these years, Tod Silegy continues to leaves his mark at Keene State through the athletic exploits of his daughters, not to mention serving up a winning dinner.
Related Stories