Dylan's Basement Tapes Resurface at Redfern Arts Center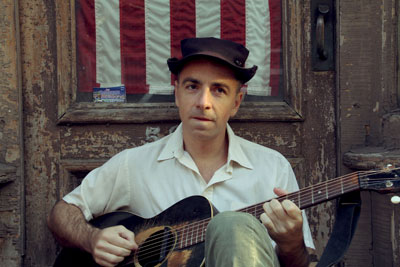 Get ready for Bob Dylan's underground Basement Tapes to resurface at Keene State College's Redfern Arts Center when acclaimed musician Howard Fishman and his band performs The Basement Tapes Project: Bob Dylan and the American Songbook on Wednesday, November 5, at 7:30 p.m. in the Alumni Recital Hall.
Tickets range from $25 to $20 depending on seating and $5 for KSC students. For tickets, contact the Redfern Box Office, which has extended its hours this season and is open Monday to Friday, from noon to 6 p.m., call 603-358-2168 or order online. See a video clip and more information about Howard Fishman and The Basement Tapes Project.
Conceived by critically-acclaimed singer, guitarist, composer and bandleader Howard Fishman, The Basement Tapes Project explores the mysterious underground recordings made by Bob Dylan and The Band in 1967. And the timing of this performance couldn't be better: on November 4, Dylan and Columbia Records release the official six-disc collection of the complete Basement Tapes http://www.bobdylan.com/us/news/bob-dylans-basement-tapes-complete-bootleg-series-vol-11-set-november-4-release. On Nov. 11, an album of lost Bob Dylan lyrics set to new music, titled Lost on the River: The New Basement Tapes, will be released and feature Elvis Costello, Marcus Mumford, Jim James of My Morning Jacket, Taylor Goldsmith of Dawes, and Rhiannon Giddens of Carolina Chocolate Drops.
Considered one of the most agile interpreters of the American songbook, Fishman's performance is more than a tribute — it's a trip back through "old, weird America" to get to the very source of Dylan's material. Called "haunting and affecting" by the New Yorker, Fishman uses these songs to provide insight into the life of one of America's most influential artists.
Fishman says the Basement Tape sessions "are the first time Bob Dylan reveals his true self: not as a visionary prophet, not as a generational spokesman, not as a hallucinatory poet, but just as guy who loves to make music with friends; a guy who cracks himself up (and so cracks us all up), a guy who knows that his own true self is deeper, more mysterious, and more compelling than any role he could ever choose to play."
There are several free activities and films surrounding this event.
A Dylan Listening/Resource Station will be set up Monday to Friday, November 3 to 7, in the Redfern Arts Center Main Lobby. You can thumb through a crate of recordings and writings, and sample music at your convenience. Have your own record to share? Add it to the collection for the week.
The same day as the show Wednesday, November 5, Howard Fishman will present an Improvisation and Songwriting Workshop at 2 p.m. in the Main Theatre of the Redfern Arts Center
A Pre-show Listening Party will begin at 6 p.m. in the Harry Davis Room of the Redfern Arts Center. Join us in an informal setting to explore some of Bob Dylan and The Band's music as well as its inspirations and evolution. Feel free to submit song ideas ahead of time, bring a record from your own collection or assemble a playlist to DJ with the room.
After the performance there's a Post-show Reception and Meet and Greet the artist in the lobby.
The KSC Film Society will screen two Dylan Films between November 1 and 12 at the Putnam Arts Lecture Hall in the Redfern Arts Center as follows:
Don't Look Back, November 1 to 4 and 6, Friday and Saturday 7 and 9 p.m., Saturday and Sunday 2 p.m. matinee, Sunday to Tuesday and Thursday at 7 p.m. only. No screening on Wednesday, November 5.
I'm Not There, November 7 to 12, Friday and Saturday, 7 and 9:30 p.m., Saturday and Sunday, 2 p.m. matinee, Sunday to Wednesday, 7 p.m. only.
About Redfern Arts Center at Keene State College
The Arts Center is named in honor of Dr. Leo F. Redfern, Keene State College President from 1969 to 1979 for his vision, commitment, and eloquence on behalf of the arts that made funding and construction of the facility a reality. In 1981, KSC inaugurated this new performing arts center, with the goal of providing unforgettable artistic encounters for the campus and community. Now in its 33rd year, the Redfern Arts Center presents and fosters dynamic, multifaceted arts experiences through performances, residencies, and related programs that deepen the connection between the arts and audiences, both from the campus and the greater Monadnock region.
Related Stories