Keene State not Lacking for Collinses on Volleyball Team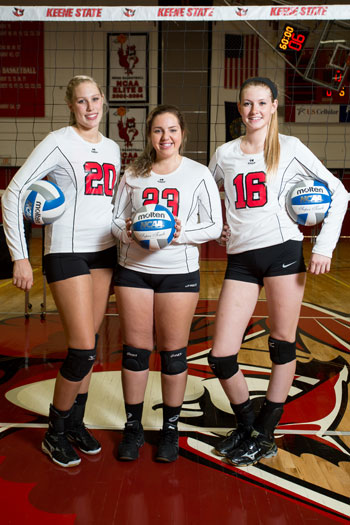 It's often said that three's a crowd – but that's not a bad thing when you're talking about the Keene State women's volleyball team. To parallel the recently dissolved Miami Heat "Big Three" of LeBron James, Dwayne Wade, and Chris Bosch, the Owls have not one, not two, but three freshmen players with the same surname on the squad this season: Taylor Collins, Courtney Collins, and Ashley Collins.
Keene State Coach Bob Weiner says it wasn't a diabolical recruiting strategy to corner the market by netting players with the same last name; rather, it was a "lucky accident."
In the summer of 2012, Courtney Collins and Taylor Collins both visited Keene State within a two-week period. "At this point, I was just confused because one (Taylor) was from Londonderry, NH, and was on the school's 2013 state championship basketball team," Weiner said. "She had never played club volleyball and I was surprised she was as interested in playing the sport in college."
Two weeks later, Courtney Collins showed up at Spaulding Gym. While Courtney, a Litchfield, NH, native, had a more traditional volleyball background, she didn't go to nearby Litchfield High, but to Pinkerton Academy, where her father, Andrew, taught math.
Weiner not only saw their potential as players, but was also impressed with their poise and demeanor. "I have a program where I write little notes and for each one of my recruits, and I wrote something along the lines: "6-2 athletes – why not?" said Weiner. "Let's go after these two. So we proceeded to recruit them all the way through the process."
To his surprise, another Collins was about to enter the picture. Weiner found out about Ashley Collins when her name popped up on a recruiting service. While Ashley had all the attributes coaches are looking for – she was a very good athlete with very good grades – there was a drawback. She was from Cypress, a city located in the northern region of Orange County in southern California. "I told her that I had been working hard to get players from California and 'We'd love to have you – but are you sure you want to come? We have real winters with real snow.' But when she visited she was very positive, and suddenly there were three."
Some people believe things that come in threes are exceptionally better. If the Three Stooges and the Three Musketeers conjure up fun and adventure, then why not the Three Collinses of Keene State's volleyball team?
Sharing the last name of two teammates caught some of the Collinses off guard. "I thought it was pretty cool. I haven't had too many players with the same last name on my team, so that was different, especially since one of them came all the way from California," said Courtney.
"I thought it was a fun coincidence," added Ashley. "I'm coming from far away, so I thought it was another small sign that told me to come here. It was comforting."
While Ashley didn't know Taylor or Courtney until she arrived at KSC, Taylor and Courtney, both middle hitters, were very familiar with each other as rivals in high school. "It was definitely weird at first, because we obviously never talked because we were rivals, but we get along really well now," said Courtney, a four-year player at Pinkerton Academy who served as the Astros' captain as a senior. "We never really had a problem – it was like, hey, I know you, but I really never talked to you before."
Playing with a former rival has been "interesting and different," said Taylor, a product of Londonderry High who earned honorable mention All-State honors as a senior. "We get along really well. It's like high school was a long time ago."
Weiner did his best to diffuse any potential lingering in-team rivalry by moving Taylor to the right side. "Because we have these two young women with the same size, I didn't want them competing with each other," said Weiner. "So we immediately moved Taylor to the right side. It's a great position for her."
A 5-8 libero, Ashley didn't begin playing volleyball until her freshman year at Cypress High. "Since then it has basically taken over my life," she said.
While Taylor and Courtney hail from the Granite State, Ashley had a feeling she would be leaving the West Coast to attend college. "I thought I was going out of state – I just didn't think it would be all the way cross country," said Ashley, who was accepted into Keene State's nursing program as a freshman and was a recipient of the College's President's Scholarship. "I came for a visit in April and I committed by the end of the day. It was just perfect for me."
The three players get along on and off the court and often joke about having the same last name. "Ashley is always saying, every time I wear a shirt that has Collins on the back, that 'It's mine, too,'" said Courtney. "'You've got to share it with me.'"
The Collins clan is currently paying its dues, watching and learning from the veterans on the team. "I'm left bench cheerleader," joked Ashley. "I'm definitely learning a lot, but it's hard when we're not playing well and you can't do anything about it on the sidelines."
Playing behind a pair of juniors, Courtney got some extended playing time, knocking down a season-high three kills in matches against Emerson and Salem State last weekend. "Courtney is going to be a significant player in this program," said Weiner. She's learning a lot and enjoying the experience."
In fact, Weiner has high hopes for each Collins on his roster. "In a few years we might have all three Collinses on the court at the same time," he said. "It turned out to be a great investment – even if it was accidental."
"I'm excited about the years ahead," said Taylor. "It's nice to know that Coach sees our potential to help the team."
As they're projected to be impact players, it's just a matter of time before the Collinses make a name for themselves – even if it's the same name
Related Stories