Student TV Pilot Featured in International Student Film Festival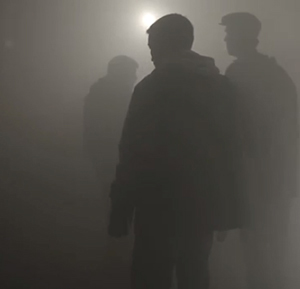 If you've been attending student film events lately, you know that the teams in the Production 3/4 classes have been creating some very ambitious projects. Projects that go far beyond the expectations of the course. Last year, a student team pushed the envelope even further when they shot a pilot for a TV show, Limbo, which will be shown on Saturday, Nov. 8, at the International Student Film Festival in Hollywood. The festival features work from student filmmakers around the world.
Though the rigors of creating such a professional-quality film requires strict discipline and a far-above-average work ethic, this team was obviously up to the task. "The crew struggled to begin with on story and crew positions until they really solidified, biting the bullet and attacking the project through long production hours and a professional dedication," recalled Professor of Film Thomas Cook. "They researched their respective crew positions outside of class to learn even more than expected on how to perform their responsibilities, and the effort really shows."   And Prof. Cook didn't go easy on them, either. "When they pitched their TV pilot idea, I demanded that Ben [Johnson] and Josh [Demeule] approach it as a real-life scenario, which required them to create a bible (a book of overriding backgrounds, histories, and approaches to story lines and characters), a season-long timeline, and have several scripts ready if they ever got some industry interest," he explained. "Looks like their work has paid off. …"
Read all about it in the Equinox article, "Hollywood Film Festival Features KSC Production", and check out the trailer:
Related Stories