Loevy-Reyes Preps Keene State Students for Careers in Law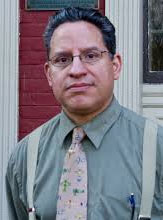 If Mark Loevy-Reyes were getting ready for trial, he might be in the discovery stage – a process whereby the parties find out the witnesses and evidence to be presented by the other side.
Appointed a year ago as Keene State College's pre-law advisor, Loevy-Reyes is looking to identify not witnesses and evidence, but Keene State students considering careers in law. While Loevy-Reyes, who has been practicing law since 1992 and is currently running the court diversion program in Brattleboro, VT, can make a persuasive argument for a life in law, that's not his intention.
"My job here isn't to talk people into it, but to really explore different careers," said Loevy-Reyes, a native of Joliet, IL, who has worked in civil rights, criminal law, and disability law in Chicago and Brattleboro and taught graduate courses in law at Antioch University New England in Keene. "I'm able to offer them my perspectives on coming out of school and practicing law and on career paths as well as inform them what sort of skills, classes, and majors might help them when it comes to succeeding in law school."
Keene State has been building a case for helping students sift through materials and resources pertaining to law careers for quite some time. "The number of students has increased and that indicated an interest to the point where we said, Why not?" said Pat Halloran, director of Academic and Career Advising at Keene State. "Keene State doesn't have a specific program in pre-law, but why can't a liberal arts institution send students off to law school?"
With little litigation needed, Loevy-Reyes has proven to be the ideal person to push KSC's pre-law initiative forward. "One of the things I liked about Keene State is that it is very similar to Northern Illinois University, where I got my undergraduate degree," he said. "It has a similar demographic to Keene State in that we have a lot of students who are going to college for the first time in their family. And as one of those students, I really felt lost as far as getting advice about my career options."
Loevy-Reyes, who earned a bachelor's degree in political science/international relations from Northern Illinois, an M.Ed. from UMass Amherst, and a 1992 JD from Cornell University, believes in equitable distribution of advice, speaking with first-year students as well as upperclassmen. Reyes says the younger students are worried about majors and classes and what they can do during their undergraduate career to enhance their ability to get to law school. Juniors and seniors are looking at the LSAT and the law school application process, and seeking career information.
While Loevy-Reyes can offer advice and suggest applicable majors and coursework, he quickly points out that people in law come from a variety of backgrounds. "Law impacts every sort of career that is out there and there is no real major that you need to have to go to law school," he said. Exhibit #1 – Education: "People might think they want to become teachers, but school law and education law is a huge component of cases that are out there. Folks who are trained in education could certainly have a career in law," Loevy-Reyes points out.
Exhibit # 2 – Science: "Students who get some of the sweetest jobs out of law school are science majors," said Loevy-Reyes. "They often go into patent law and evolving areas because they have an expertise where they can combine those two things."
Loevy-Reyes doesn't have a separate practice at Keene State. He relies on Halloran and her staff, plus an advisory council consisting of faculty members to refer students to him. He also takes advantage of the many events put on by KSC's Academic and Career Advising office to foster interest, including a law school fair.
While Keene State doesn't have a large group of lawyer alumni, the list is growing. Jeff Strelzin '86, who finished in the top 10 in his class at UNH Law School, currently works in the state attorney general's office in Concord. Alex Parsons '98 graduated from Yale Law School and is a public defender in New Hampshire. James Shaw '07 has his own law practice in Rindge. In addition, Peter Beauchamp '06 was a Karpatkin Fellowship at the American Civil Liberties Union, where he worked on civil rights lawsuits and policy initiatives as a member of the Racial Justice Program.
Strelzin endorses the concept of a pre-law advisor at Keene State. "I think it's a great idea. I like Mark and I have a lot of respect for him, and I think it's a great program," said Strelzin, who has attended several student forums at Keene State. "These are big decisions that people have to make in life, so giving them the most information that you can is really helpful for them."
Reyes has enjoyed connecting with students at Keene State. "It nice to work with young people in a little more positive way as opposed to reacting after bad things have happened," he said. "This position allows me the opportunity to combine my love for the law and my joy of working with young people."
Related Stories