Mikaela Harding '14 Steps in as Winnacunnet's AT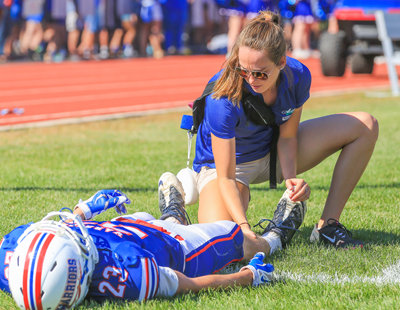 Mikaela Harding '14 was recently profiled in SeacoastOnline.com in her role as Winnacunnet (NH) High School's new athletic trainer. Check out the story, and note the wide variety of practical experience she received while she was a student at Keene State.
"I cannot imagine entering the career of AT without the prep and education I got while I was at KSC," Harding said. "Having the professors and ATCs there by my side the whole way was incredible, helping me even after I graduated with job interviews, resumes, cover letters, etc. They went above and beyond, even after their teaching 'responsibilities' were completed. I didn't just view the athletic trainers at KSC as my professors, I viewed them as a family—I still try to keep in touch with them when I deal with tricky situations at my new job. What especially helped me prepare for my career were all the real-world experiences I got to have while at KSC. My senior year clinical at Keene High School was by far the most beneficial experience I got … especially in my administrative/ organizational duties as head athletic trainer here at Winnacunnet High School."
Related Stories