College and Community Celebrate Children's Literature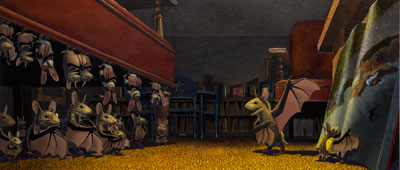 Keene State College will celebrate children's literature during the 38th annual Children's Literature Festival this month. This adult program features award-winning speakers and illustrators some of whom have created New York Times bestsellers.
When and where: Saturday, October 25 at 7:30 a.m. doors open; program begins at 9 a.m. For the full event schedule and to register, visit www.keene.edu/clf
If seats remain available, registration will also take place on October 25 in Keene State College's Student Center lobby along with a breakfast reception.
Discussions with the presenters will be held during the closing reception from 4:30 p.m. – 5:30 p.m. in Rhodes Hall. Light refreshments will be served.
For attendees, conference registration is $82; registration for full-time college students is $41
Background:
The Children's Literature Festival was started to promote a love of reading and to provide an opportunity for people to learn how stories and illustrations are created and published by authors and illustrators. The Festival provides new insights into the creation of books for young people.
The Children's Literature Festival Collection at Keene State College features several hundred original, one-of-a-kind works from over 200 artists. The collection includes works such as an original by the English illustrator Kate Greenaway, framed with its original bill of sale in 1898 in London, cover art of Chris Raschka's Caldecott Award winning The Hello, Goodby Window, Frog and Toad art by Arnold Lobel, and an illustration by Trina Schart Hyman from Hershel and the Hannukah Goblins. Tours of the Festival Gallery Collection with trained docents are now available to individuals and groups of all ages.
The featured speakers for the 38th annual Children's Literature Festival are:
M. T. Anderson is the author of picture story books, pre-teen books, and young-adult novels. He won the National Book Award for Young People's Literature in 2006 for The Astonishing Life of Octavian Nothing, volume one of the "Octavian Nothing" books, which are set in Revolution-era Boston. Learn more about him and his works at www.mt-anderson.com.
Diane deGroat has illustrated over 130 books. Her first chapter book that she wrote and illustrated was Annie Pitts, Artichoke, published in 1992. The first picture book that she wrote was Roses Are Pink Your Feet Really Stink. Charlie the Ranch Dog was a #1 book on the New York Times Bestseller List. Diane donated original from Charlie and the Christmas Kitty to the Festival Gallery Collection, along with the steps leading up to it. Diane's web site is found at www.dianedegroat.com.
Oliver Jeffers was born in Australia but soon moved to Northern Ireland, where he lived until he moved to Brooklyn in 2008. His unique books have been translated into over 30 languages and have won numerous awards. His most recent book, a New York Times bestseller, is The Day the Crayons Quit. Oliver's web site is located at www.oliverjeffers.com.
Richard Michelson is a poet, children's book author, and is the owner of Michelson Galleries. His childhood influenced his work, and as a result many of his books deal with racial issues and interactions between races. As Good As Anybody, about the friendship between Martin Luther King, Jr. and Abraham Joshua Herchel and how their friendship promoted the message of love and equality for all, won the Sydney Taylor Gold Medal Busing Brewster was one of the 2010 New York Times 10 Best Illustrated Books. More can be learned about Richard at richardmichelson.com.
Pamela Zagarenski has received two Caldecott Honor Awards. One in 2010 for Red Sings From Treetops: A Year in Colors by Joyce Sidman, and also in 2013 for Sleep Like A Tiger by Mary Logue. Her most recently illustrated book is What the Heart Knows, Chants, Charms & Blessings by Joyce Sidman. Learn more about Pamela and her work at www.pzagarenski.com.
Related Stories