From Plumber to Geographer, Charles Stoll Finds Himself. Here.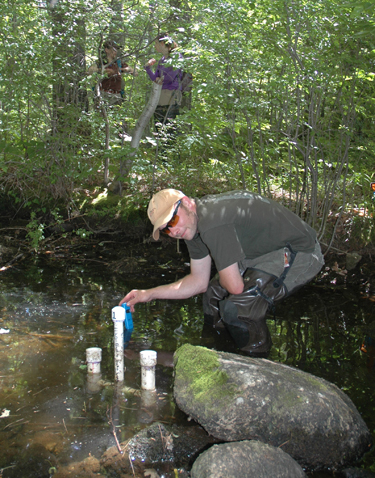 After spending 10 grueling years as a plumber and suffering three fairly significant injuries, Charles Stoll decided he needed a change of direction—something a little more rewarding and less physically taxing. So he enrolled at Keene State, thinking he'd pursue a career in engineering or business management.
But, even for a non-traditional student with his feet well planted beneath him, the opportunities and avenues for exploration that KSC laid before him let Stoll discover an even more engaging path. "After taking a few ISP courses throughout my first two semesters, I decided that I was more lent to the sciences and figured that was the direction I needed to follow," he explained. He found himself especially drawn to his Does the Earth Have a Fever? Integrated Quantitative Literacy (IQL) course, an entry-level earth systems science course, and Introduction to Geography.
It was in that geography course that Stoll found his predilection. "I was motivated to pursue a bachelors in geography because I feel as though I can relate to that spatial mindset," he recalled. "Geography is a spatial science, and given my previous occupation, I tend to think about things more analytically I think—processes and patterns, relationships and positioning. I also really enjoy history, and the cultural and/or sociopolitical aspects of geography help to satisfy those curiosities. It helps that I am also an anthropology minor, because learning about and developing an understanding of the human relationship with the environment is a story I have become more and more fascinated with."
Along with his geography major, Stoll is pursuing GIS certification. GIS (geographic information system) is a computer system designed to capture, store, manipulate, analyze, manage, and present spatial or geographical data. In the spring semester of 2014, he got an opportunity to put his science aptitude and geography skills to work when he began working with Assistant Professor of Environmental Studies Denise Burchsted on her EPSCoR research project on natural dams. "She enlisted me to analyze aerial photography of southwestern New Hampshire and to begin classifying watersheds for land cover, specifically for ponds and meadows caused by natural dams like those created by beavers, and for similar, though less natural, ponds and meadow systems created by humans," Stoll said.
That work led to a summer internship that saw Stoll in the field collecting data for the project. "I have to say it has been a truly awesome experience, and I feel very fortunate to have been involved with it. I have been learning about how river systems function, and what some of the influences on river characteristics are," he said.
Though Stoll hasn't decided exactly where he wants to go with his new career path, he's confident with the many options his education has opened for him. "I do feel as though the education that I have been receiving through KSC has more than fully prepared me for anywhere I choose," he said.
Related Stories