KSC Theatre presents "Equus" in October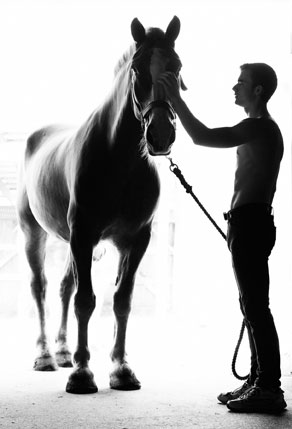 Equus, an explosive play of passion and human behavior, will be presented Tuesday to Saturday, October 21 to 25, by the Keene State College Theatre and Dance Department. Each show starts at 7:30 p.m. with a 2 p.m. matinee on Saturday, Oct. 25, in the Wright Theatre of Keene State's Redfern Arts Center. Tickets are $10 for the general public, $8 for senior citizens, and $6 for KSC students.
Equus contains mature subject matter and may not be appropriate for all audiences. Call the box office at 603-358-2168 or order online.
Equus was written in 1973 by British playwright Peter Shaffer, to explore the reasons that could have triggered a true incident in which a 17-year-old boy blinds six horses. So compelling was its look at the psychological reasons for human behavior that the drama became an international award-winner and received the Tony Award for its Broadway premiere as well as the NY Drama Critics Award, and the NY Drama Desk Award. Equus has seen many revivals, most recently in 2008 starring Daniel Radcliffe, which solidified its reputation as a timeless classic and a cornerstone of contemporary drama.
Keene State faculty co-directors PeggyRae Johnson and William Seigh will place their production in the 1970s when the field of psychology was questioning its methodology and relevance. They both emphasize that the play has many correlations to the 21st century with its focus on psychological motivations, and on passion, reason, worship, and senseless acts of violence.
"This play deals with understanding why people behave the way they do," said Johnson. "It's what theater has done throughout history - looking at the polar opposites of society - the rational versus the irrational, reason versus chaos."
Equus is a haunting and thought-provoking play that leaves people with a lot of questions. "This play shows how theater can invoke, inspire, and open people up to change," said Seigh, who is choreographing the production in which actors costumed abstractly as horses act as a Greek chorus. To enable the actors to learn how horses move and behave, members of the cast visited Stonewall Farm in Keene and Jeannie Butler's farm in Marlborough where they groomed and rode the horses.
"The more the actors know and experience, the more they can bring to their roles. It's been invaluable for them," explained Seigh.
The play takes place in the office of a psychiatrist, who is treating the adolescent boy who blinded the horses. In addition to exploring the mystery of the boy's actions, the play also deals with the doctor's own sense of purpose and his crisis of faith as he battles reason vs. passion.
Two veteran actors share the lead roles: William Howell of Peterborough, N.H., a KSC alumnus and staff member, plays the psychiatrist and KSC senior Taylor Jorgensen of Wilton, N.H., the troubled teen. Two other community members are in the cast: Jeannie McGartland of Keene, N.H. and Paige Lussier Johnson of Jaffrey, N.H. who is a KSC Theatre and Dance alumna. Other KSC student cast members are Will Adams of Fernandina Fla., Josh Bernard-Kriegl of Dover, N.H., Henri Hardina-Blanchette of Northampton, Mass., Cara Gerardi of Dennis, Mass., Mitch Hodge of Windham, Maine, Matthew McDougal of Keene, N.H., Megan Pereira of Randolph, N.J., Mia Plympton of Marblehead, Mass., and Kenan Veno of Edgartown, Mass. Jillian Strazzere of Wilmington, Mass., is the stage manager.
About the Theatre and Dance Department
The Department of Theatre and Dance is dedicated to providing a comprehensive course of study that balances theory and practice within a sound liberal arts education. The collaborative nature of theatre and dance disciplines fosters an atmosphere in which students work closely with peers and faculty to gain practical experience in all facets or production and critical engagement. As artists and teachers, our primary focus is to encourage and guide our students as they find their creative voices and experience and question the world through the arts. For more information about the Theatre and Dance Department, visit http://academics.keene.edu/tad or call 603-358-2162.
Related Stories