Thorne to Showcase a Century of Photography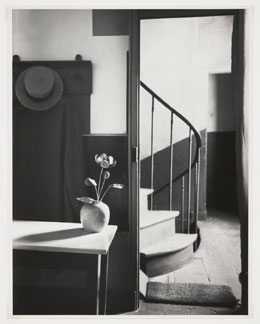 Dynamic Photography Exhibit Spans the History of Photography
Keene State College's Thorne-Sagendorph Art Gallery will showcase photographs, which span the history of photography, from studies of animal locomotion, to contemporary prints, in an upcoming exhibit titled Light Works: A Century of Photography. Many celebrated photographers are included in this exhibit. Light Works is organized by the Kalamazoo Institute of Arts, Kalamazoo, Michigan. The exhibit will open on October 10 and remain on display until December 7, 2014. It is free and open to the public.
"We are thrilled to offer this exhibit, which has work by some of the most famous photographers of the century. The show features incredible pieces by Edward Curtis, Richard Avedon, Edward Steichen, Harry Callahan, and iconic photography such as Gordon Parks' images of Harlem life and the black Muslim movement, as well as Eadweard Muybridge's "Valley of the Yosemite" among others," said Maureen Ahern, director of Thorne-Sagendorph Art Gallery at Keene State College.
About Thorne-Sagendorph Art Gallery
Thorne-Sagendorph Art Gallery began its collaboration with Keene, surrounding communities and Keene State College when it opened in 1965. The Thorne's mission is to equally serve all constituencies by presenting high quality exhibits for education and appreciation. The Thorne collection has two focuses: One focus is collecting and preserving artwork by artists from the 19th century Dublin Art Colony as a heritage for the people of the Monadnock region. The second focus is collecting work of high aesthetic and educational value to enhance the teaching of Keene State College faculty, and for the enjoyment of students and all visitors to the Thorne. More information about the Thorne can be found online.
Related Stories