Adele Myers and Dancers perform at the Redfern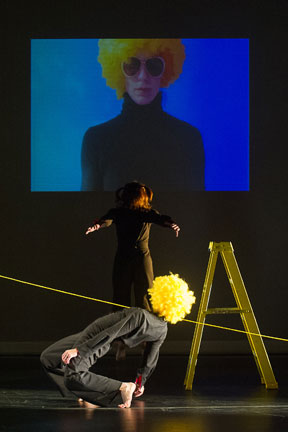 Adele Myers and Dancers explore the feelings of risk and anticipation in a new multi-media movement piece called Einstein's Happiest Thought on Wednesday, October 8, at the Redfern Arts Center at Keene State College. The evening-length work, which uses dance, film, music and scripted performance to interpret Albert Einstein's scientific theories, begins at 7:30 p.m. in the Redfern's Main Theatre. See a video clip of the performance and get more information about Einstein's Happiest Thought.
Tickets to Einstein's Happiest Thought range from $25 to $15 depending upon seating, and $5 for KSC students. For tickets, contact the Redfern Box Office, which has extended its hours this season and is open Monday to Friday, from noon to 6 p.m. Call 603-358-2168 or order tickets online.
There are several outreach activities, called Creative Connections, surrounding this performance. All are free and open the public.
Dramaturgy and Choreographic Process an interactive lecture/demonstration with writer/dramaturg Ain Gordon and choreographer Adele Myers begins at noon, Tuesday, October 7, in the Mabel Brown Room of the Keene State's Young Student Center.

Movers and Shakers Workshop with Adele Myers, for dancers of all levels, begins at 10 a.m. Wednesday, October 8. the Mabel Brown Room of the Young Student Center.

Pre-show Warm Up: the audience is invited to explore the company's style and gestures in a 30-minute warm-up with Adele Myers at 6:30 p.m. Wednesday, October 8, in the Redfern's Main Lobby.

Post-show Discussion with the Artists, moderated by writer/dramaturg Ain Gordon in the Redfern's Main Lobby. Refreshments will be served.
Adele Myers, who premiered a new dance Theatre in the Head at the Redfern in 2011, returns to Keene State with Einstein's Happiest Thought which explores the charged physical states of imbalance and anticipation of risk. Dancers move to the point of falling and then recover; stand atop a ladder bodies poised to topple and then right themselves. Every movement appears on the edge between balance and imbalance. It is part acrobatics, part modern dance, and a bit zany – as eccentric as Einstein's mind.
"Ms. Myers can indeed shape an onstage world," says Roslyn Sulcas with The New York Times.
An excerpt from Einstein Happiest Thought, which was developed by Myers with a National Dance Project grant, was performed at the Redfern Season Kick-off Party on September 10. The piece is directed and choreographed by Adele Myers, includes collaborating composer, Josh Quillen with So Percussion; Lighting and Visual Designer, Kathy Couch, Los Angeles based filmmaker, Emmy Pickett; and dramaturg, Ain Gordon.
Founded in 2000, Adele Myers and Dancers is a five-member contemporary dance company based in New England. The mission of Adele Myers and Dancers is to create engaging dances that are accessible to a wide range of audience members. Myers has lit up the dance world with a singular style that combines effortless grace with a trademark theatricality mixed with dazzling athleticism and disarming poignancy.
This performance of Einstein's Happiest Thought is sponsored by The Kingsbury Fund and was made possible by the New England Foundation for the Arts' National Dance Project, with lead funding from the Doris Duke Charitable Foundation and The Andrew W. Mellon Foundation, with additional support from the National Endowment for the Arts.
About Redfern Arts Center at Keene State College
The Arts Center is named in honor of Dr. Leo F. Redfern, Keene State College President from 1969 to 1979 for his vision, commitment, and eloquence on behalf of the arts that made funding and construction of the facility a reality. In 1981, KSC inaugurated this new performing arts center, with the goal of providing unforgettable artistic encounters for the campus and community. Since then, the Redfern stage has hosted hundreds of amazing shows, from internationally renowned artists to emerging young talents to KSC's own student performers. Over the years, the Redfern has expanded its outreach programs, curricular and community partnerships, becoming an indispensable resource for the Keene community and beyond.
Related Stories