Schmidl-Gagne to Mark 50th Birthday by running in DeMar Marathon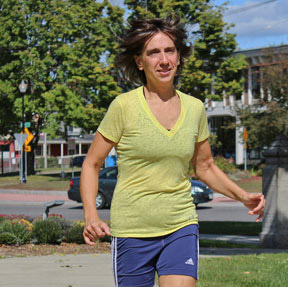 Kim Schmidl-Gagne's birthday on Sunday, Sept. 28, won't be your typical run-of-the-mill celebration. A long-time staff member at Keene State currently serving as program manager for the provost and the chief officer for diversity and multiculturalism, Schmidl-Gagne will mark her 50th by running in her first-ever marathon – the DeMar Marathon, which, appropriately enough, finishes at Keene State.
"The marathon happens to fall on my 50th birthday. And I thought the Fates were telling me something," she said. The Fates weren't the only ones talking to Schmidl-Gagne, a native of Springfield, MA, who has worked at Keene State for 25 years. Several years ago while taking part in Heathy Returns, a College program for faculty and staff that offers screenings for body-mass index, blood pressure, cholesterol, and more, Schmidl-Gagne got some return information that she wasn't quite so pleased to hear.
"I have a clear recollection of talking with one of the counselors and almost whining about how my life is so busy and I have no time to work out," recalls Schmidl-Gagne. "The woman was pretty sharp; she read my face and said, 'You look like a smart woman; if you want to figure this out, I'm sure you could."
"I don't know if what the woman said would work for everybody, but it was the right thing to say to me," confessed Schmidl-Gagne. "She had me nailed."
Schmidl-Gagne not only figured it out, but was determined to do something about it. She and Lucy Webb, a neighbor and Keene State colleague, began walking a two-mile loop every morning around their homes in Keene. Over time, walking became running. "When you run you go faster, so the two miles became three without taking up any more time," she said.
At one time, Schmidl-Gagne wasn't immune to exercise and working out. Growing up in Springfield, she played soccer, swam competitively, and even took dance lessons. Although Schmidl-Gagne remained active in college, first at North Adams State (now Mass College of Liberal Arts) and later at Ohio State, she eventually got off track. Sporadically going to the gym when motivated, Schmidl-Gagne realized that her Heathy Returns numbers didn't add up and she could no longer ignore the long-term consequences of not getting back in shape.
However, there's a big difference between jogging a few miles around the neighborhood and running a marathon. Schmidl-Gagne, who began running at the age of 46, increased her mileage in increments. Somewhere along the line three miles became six miles and six miles eventually led to a 20-mile run she had two weeks prior to the marathon. "When I finished 20 I said to myself, are there 6.2 miles left in me? I felt OK and I was walking around the next day, so that was probably a good sign."
Running brought out Schmidl-Gagne's competitive spirit. In addition to her job at Keene State, she also served as the president-elect of the Northeast Housing Association, working with many young colleagues on the executive board. She challenged them to take up running, too. "I was probably about 20 years older than they were and I needed to teach them a lesson," she said.
Using a shared Google spreadsheet, Schmidl-Gagne and the board members kept track of their accumulated mileage prior to their conference. Schmidl-Gagne not only won the contest, but also placed third overall and was the top women finisher in a 5K race held at the conference.
Competitiveness aside, Schmidl-Gagne, who lost 60 pounds, also saw a significant improvement in her health. While her mileage increased, her blood pressure and cholesterol numbers began to drop. Her activity also led to a change in her breast tissue. A mammogram in the fall of 2012 found micro-calcifications that were malignant. "I don't know if those would have been found if I hadn't lost weight and got into shape," she said. "Fortunately, I had stage zero breast cancer, which meant only a lumpectomy and radiation. And I missed only one day of work."
You don't run a marathon without some help, and Schmidl-Gagne has received plenty of support. A three-time All-American at KSC, Ryan Widzgowski, has helped with her training, while Wes Martin, a member of the College's Political Science Department faculty, will assist Schmidl-Gagne on race day, meeting her at several mile marks along the course.
"Kim is a workhorse. She'll do anything you ask," said Widzgowski. "She's motivated and her attitude is perfect."
Schmidl-Gagne has also received tremendous support from her husband, Mark, an educational counselor in the College's Aspire Program, and children Casey, 14, and Emma, 10. Emma, who will run in the DeMar Kid's Marathon, has helped by tracking her mother's workouts, while Mark has been sympathetic to Kim's training schedule. "There are times like this past weekend when a 20-mile run takes three and a half hours. Somebody has to watch the kids! I think he realized it was important for me to get back into shape," she said.
Although she has run in several scenic locales like Jackson Hole, Yellowstone Park, and Block Island, Schmidl-Gagne can usually be seen most mornings running on the bike trails from her house to Wheelock Park. Inclement weather forces her inside, trouncing on the treadmill in Spaulding Gym. Does she get bored running on the treadmill? "Not with Netflix," said a smiling Schmidl-Gagne, who also reads and listens to music while working out.
With her training coming to an end, Schmidl-Gagne is now focused on race day. "I don't run races very often, so one of the things I need to remember to do is run my own pace and not be influenced by the people around me. I'm not worried about a time," said Schmidl-Gagne, who hopes to run at a pace of 10 to 11 minutes per mile. "I'm trying to imagine what it will be like crossing the finish line."
Although she will continue to run, Schmidl-Gagne plans on making the DeMar her first and last marathon. "Never say never, but I have no plans to run another marathon," she said. "But then again, I didn't know I was going to do this one, either."
Related Stories