Hometown Scholarships Help Dayo Attend Keene State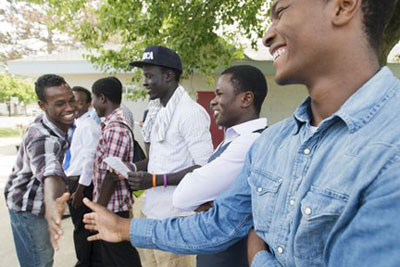 No one has to tell Hassan Dayo that he's fortunate to be attending Keene State this fall. His poise, maturity, and proud smile speak for themselves.
"The first thing one notices about Hassan is his beautiful smile," said Sandra Garcia, the College's coordinator of multicultural student support. "However, once you have an opportunity to talk to him, you are impressed by his maturity. There is something of an old soul there, in the manner in which he demonstrates respect for those around him and his willingness to help if needed."
But it was Dayo who needed help to come to Keene State. Arriving in the United States at the age of eight from the Kakuma Refugee Camp in Kenya, Dayo didn't have the financial means to pay for college. Fortunately, his adopted hometown of Burlington, VT, came to his rescue with commercial businesses like Nancy Jenkins Real Estate and nonprofit organizations like the Boys and Girls Cub offering him much-needed scholarship support.
"We felt Hassan was a hard-working student who deserved the scholarship," said Kelsey Webb, the marketing director for Nancy Jenkins Real Estate. "We love to see people succeed. We wish him the best and just wanted to help him further his education and reach his goals."
The scholarship from the Boys and Girls Club came from its Early Promise program, established seven years ago in response to a concern that relatively few of the club's regular members were continuing their education past high school. Looking to make the program sustainable, the club got a major boost this summer when Burlington philanthropist Tony Pomerleau donated $1 million to the program over 10 years – the largest donation in the organization's history.
Dayo, who plans to study psychology and become a school counselor, was one of seven students who will receive $2,000 in each of their years in college. The executive director of the Boys and Girls Club of Burlington, Mary Alice McKenzie, called Dayo a very deserving student. "Hassan is mature beyond his years. He's an incredibly responsible young man who has contributed in many ways to his family," she said. "We totally believe he is up for the challenge of attending college and he was very clear that he wanted to go to Keene State."
Born in the Kakuma Refugee Camp, where his family relocated after fleeing from war-torn Somalia, Dayo has dreadful memories of his early years, including poor living conditions and unpleasant experiences attending school. "School wasn't fun and it wasn't safe," he said. "We get bullied and beaten up by the native people."
Dayo and his family got a new lease on life when they came to the United States in 2004. "I was happy because we'd been told that America is like heaven and it's the land of opportunity," said Dayo. "But I was scared because I was going to leave family and friends behind. I was young and didn't know what to expect."
Eventually settling in Burlington where his mother had friends, Dayo made a surprisingly smooth and successful transition, especially in the classroom. "I was impressed with my teachers and that really motivated me," he said. "Seeing them happy made me happy, and I worked hard every day."
Dayo's middle-school and early high-school years were tough. Feeling an obligation as the oldest child in the family, Dayo tried, unsuccessfully at times, to balance his increased schoolwork with his responsibilities at home and setting an example for his younger siblings.
Dissatisfied with his grades, he started taking an introspective look at his life – where he was and where he wanted to go. "Sometimes I would sit down and start thinking and reflecting on my own life and why I'm here," he said. "That's when it hit me – I knew I could do better."
A determined Dayo saw not only a significant climb in his grades but success as a member of the Burlington High track team. The recipient of the school's Effie Moore Memorial Award for Academic Progress as a senior, he also captured Division I state championships as a member of the Seahorses 4x100 relay team and in the javelin, an event he didn't pick up until his junior year.
Taking challenging advanced placement classes as a senior, Dayo weighed his college options. Initially considering schools in California and Boston, Dayo decided to stay close to home and attend Keene State. "I'm a big family and friends guy," he said. "I chose KSC because I have friends who go there and other schools around New Hampshire. I'm also close to home and that was important to me."
Ironically, Dayo was hesitant about going to the Boys and Girls Club in Burlington. "I heard about a lot of fighting and kids being there for the wrong reasons, so I never stepped foot in there before my freshman year," said Dayo.
After moving closer to the club, Dayo found out the rumors weren't true and became a frequent visitor, playing basketball and hanging out with friends. Getting to know staff members, Dayo also volunteered, working with kids as part of his 40-hour mandatory community service work at the high school.
Learning about the club's Early Promise program, Dayo applied for and received the scholarship. "I hope they chose me because I worked hard and not because of pity," he said. "I haven't been given a lot of things, so I'm happy that they thought enough about me to give me this scholarship."
Attending the College's multicultural retreat before the start of the semester to get acclimated, Dayo says he's still going through an adjustment period. "I'm not one to be homesick, but I'm calling home a lot," he said. "Being on your own is hard and I'm not used to it."
"This is another journey," Dayo added. "I feel like I'm going to be a different person after this year – a better Hassan. And I'm excited to see that. Sometimes you need to struggle in life so you can better appreciate your successes and accomplishments. I'm not going to give up. I want to make the most of this opportunity."
Related Stories