"Offspring," A New Exhibit at the Carroll House Gallery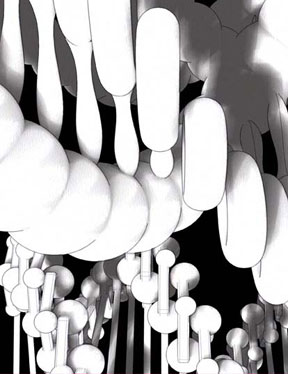 The Art Department at Keene State College is pleased to present the exhibition titled Offspring in the Carroll House Galleries from September 5 - 27.
Artists are always influenced by numerous outside sources, however the selected artists in Offspring have drawn many correlations between their practices and the works of relatives. A vast range of media is represented in this exhibition including painting, fabric, film, cast chocolate, ceramics, photography, printmaking, and bookmaking. All participating artists in the exhibition have either worked collaboratively or have been influenced/inspired by other creative family members.
The exhibit features:
Rosemarie Bernardi, Alyssa Bernardi
Jonathan Gitelson, David Gitelson
Paul McMullan, John McMullan
Kristin Powers, Trina Powers, Siena Powers
Lynn Richardson, Marilyn Richardson
Peter Roos, Elisabeth Roos, Emma Roos
Tanya Rudenjak, Phyllis Rudenjak, Lesley Rattner
Jonathan Schwartz, Henry Schwartz
Carlos Dieter Szembek, Dieter Bruno Szembek
The Carroll House Gallery at Keene State College is located on Main Street, beside the Alumni Center.
View directions here.
Hours: Wed thru Sat 12-5pm. All Carroll House Gallery events are free, open to the public, and wheelchair accessible.
Related Stories