Teaching Adventures in Thailand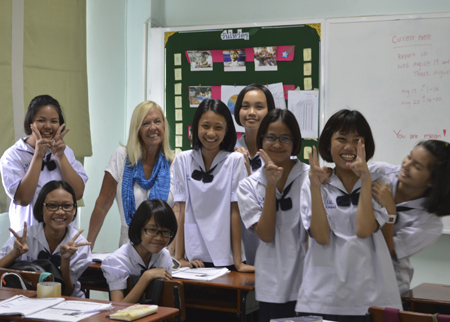 "Most people thought I was a little crazy to jump at this opportunity," said 1975 KSC grad Elsa Hedin Francescone. That's sure not the way she sees it, though. "After retiring from teaching in June of 2014, I was finally able to fulfill a dream I've had since graduation—teaching abroad," she explained. "Most of my teaching friends have retired and are relaxing in Florida, Maine, etc." But she's interested in the ones who've been a bit more adventurous.
"My story actually starts my senior year of college," she recalled. "Australia was advertising for teachers, but it required a two-year commitment. At the tender age of 21, I thought two years would be a life time and I'd return an old woman.  So, I never pursued the opportunity. Years later, I looked back on my decision and realized I had been foolish; but at that point, I was married and had two children, so teaching abroad meant impacting more lives than just my own."
As she approached retirement, she remembered her dream and began thinking about it again. However, she found that it was difficult to get teaching jobs in many countries. Some would only consider younger applicants and some required citizenship. Eventually, she connected with her college roommate's relative who was headed to Thailand to teach for six months. Elsa was convinced that program was for her, and she applied for a full year hitch. "Now I'm happily living in Ubon Ratchathani teaching math to middle school students in the English Program," she reported.
Francescone's director feels very fortunate to have found a native English speaker as well as an experienced teacher. "Older teachers are valued," Francescone said. "I have tried to convince my friends to give it a try, even just for six months, and I can't understand why no one bites. I'm receiving my retirement money from Massachusetts, I have my housing and bills covered here, and I'm getting paid. What more incentive is needed?"
Intrigued? Check out Francescone's blog, Expect the unexpected.
Related Stories