Thorne Gallery Opens "Embracing Diverse Voices" Exhibit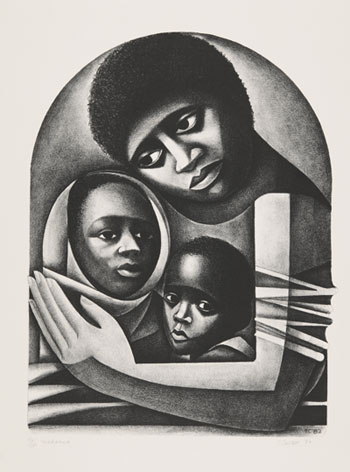 Thorne-Sagendorph Art Gallery to Explore Diversity of Expression through 80 Years of African-American Art
Range of Styles and Viewpoints on Display in Exhibit Open to the Public
Keene State College's Thorne-Sagendorph Art Gallery will provide an exploration of the diversity of experience and artistic expression among American artists of African descent through an upcoming exhibit, Embracing Diverse Voices: 80 Years of African-American Art. The exhibit explores diversity through painting, photography, sculpture, book arts, and prints. Embracing Diverse Voices is organized by the Kalamazoo Institute of Arts, Kalamazoo, Michigan. The exhibit will open on September 19 and remain on display until November 16. It is free and open to the public.
"We are very pleased to offer this exhibit to our community. It offers a rich, historic perspective that is sure to captivate our patrons," said Maureen Ahern, director of Thorne-Sagendorph Art Gallery at Keene State College. "I am confident that people who come to see this exhibit will leave the gallery with a new appreciation for the artists' experiences and perspectives, and my hope is that this exhibit it will generate meaningful dialogue among our patrons."
The works in this exhibit demonstrate as wide a range of stylistic approaches and viewpoints as one would expect of any group of Americans. While some works offer a glimpse of an artist's personal vision, others speak out as bold political and social calls to action. Common among these works—from James Van Der Zee's Harlem Renaissance portraits counteracting mainstream stereotypes, to Faith Ringgold's vision of historical, northbound journeys—is the complex, but fundamental, expression of identity. In this exhibition, we see individuals defining themselves through such varied factors as race, gender, culture, history, and social status.
"We are delighted to share works from the collection of the Kalamazoo Institute of Arts (KIA) with visitors to the Thorne-Sagendorph Art Gallery. Last shown in California, this exhibition has traveled from coast to coast, but we have added some recent acquisitions for the New Hampshire venue. For over a decade, we have been actively purchasing work by African-American artists, after recognizing that these artists were underrepresented in the KIA collection. We have many strong, new pieces, and it was difficult to choose which to send," said Vicki Wright, director of collections & exhibitions with Kalamazoo Institute of Arts. "We hope that visitors to Keene will find this exhibition as visually rich and engaging as we do here in southwest Michigan."
On October 19, at 2 p.m., Thorne Gallery will host a free lecture by Michael Lasser, "Let 'Em Have It Just that Way: The Songwriters of the Harlem Renaissance." Based on his expertise, Lasser will discuss the ways in which African-American songwriters changed America.
About Thorne-Sagendorph Art Gallery
Thorne-Sagendorph Art Gallery began its collaboration with Keene, surrounding communities and Keene State College when it opened in 1965. The Thorne's mission is to equally serve all constituencies by presenting high quality exhibits for education and appreciation. The Thorne collection has two focuses: One focus is collecting and preserving artwork by artists from the 19th century Dublin Art Colony as a heritage for the people of the Monadnock region. The second focus is collecting work of high aesthetic and educational value to enhance the teaching of Keene State College faculty, and for the enjoyment of students and all visitors to the Thorne. More information about the Thorne can be found online.
Related Stories