Army Brings Out the Best in Alum Charlie Bailey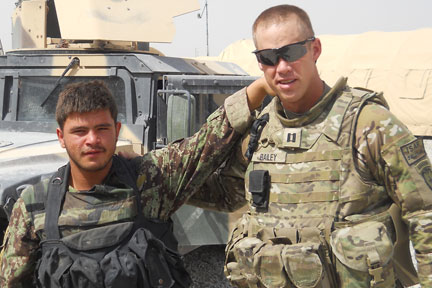 Charlie Bailey doesn't get a chance to come home to Charlestown, NH, very often. The U.S. Army has kept him busy the past 14 years, assigning him to posts from Alaska to West Point, not to mention deployments to both Iraq and Afghanistan.
Recently returning to the Granite State for a rare visit home to see his parents, Robert and Cheryl Bailey, as well a long list of family members and friends, Bailey, a 1999 Keene State College grad, was on the move again, sneaking away for a short run around his hometown.
Running down Main Street, Bailey came to a stop when a truck driven by Keene State men's soccer coach Rick Scott pulled up beside him. Bailey was surprised to see Scott, who was on the way to his own hometown of Claremont. Quite some time had passed since Bailey, who tended goal for the Owls during the 1998 season, and Scott, an assistant on then KSC head coach Ron Butcher's staff, had crossed paths. The two chattered and reminisced for a few minutes before heading off in different directions. "I wish I had more time to talk to him," said Scott, who will begin his first season as head coach at Keene State this fall. "I know he'd have some amazing stories to tell."
Scott wasn't kidding. After 14 years of military service, Bailey could write a book about his life since leaving Charlestown, a historic small village in the southwestern corner of the state lying peacefully along a 13-mile stretch of the Connecticut River.
While Bailey has lived in his share of peaceful and remote locales like Fort Wainwright, an army post adjacent to Fairbanks, AK, and internationally in Wiesbaden, Germany, he's also experienced what it's like to live and work in the most dangerous and volatile places in the world. Deployed to Iraq and Afghanistan, Bailey saw first-hand the horrific side of two wars that tested his leadership, fortitude, and courage on the battlefield.
But he has no complaints. "It's been an interesting road to say the least," said the 37-year old Bailey, a major who is currently living with his wife, Jennifer, and family on the West Point campus in New York. "Both my wife and I have enjoyed it and my kids have been all over the world," he says of army life. "By the time I was 21, I don't think I had been too far out of New Hampshire. The army has given us tremendous opportunity."
Bailey has also made the most of those opportunities, constantly challenging himself to get the most out of his abilities – sometimes in dire situations. His earliest challenges came on the soccer field. Growing up in Charlestown, the kind of small town where everybody knows each other, Bailey gravitated to the goalie position, setting school records and earning All-State honors on Fall Mountain Regional High School teams that reached the State (Class M) finals his junior and senior years. A self-described journeyman during his college days, Bailey played at Springfield College and attended UNH before coming to Keene State, where he played one season and earned a degree in history. A back-up goalie for the Owls, Bailey was known for his aggressive style of play. "Charlie was a no-nonsense player in goal," said Scott. "He was tough and fearless and owned his box. No one outworked him."
Scott and Bailey have a lot in common. Scott played soccer against his father and also served in the military, in the late 1960s, including a tour in Vietnam.
"If you're sharing a foxhole with somebody, you want it to be Charlie Bailey – it's that simple," said Scott. "You know he's not going to let you down."
You never know when a life-changing experience will occur, and Bailey's came a few years after leaving Keene State while listening to Sen. John McCain, one of his heroes, give the graduation address at Daniel Webster College in Nashua. "He gave this wonderful speech that had to do with "serving something greater than your own self-interest," recalls Bailey. "He even said, 'Don't go out and join the military – there are different ways to serve.' But I was riding home and started to have that conversation with my wife. And within a couple of months I had enlisted in the army."
The then-23-year-old Bailey headed down to Fort Benning in Georgia for officer training school. While his 90 days at officer training school and its intense attention to detail was challenging, it didn't come close to the challenges of his next assignment – a 62-day stint in Ranger School, where he trained to lead infantrymen. Thought to be physically and mentally strong, Bailey was pushed beyond his limits in order to survive. "They take you right to the edge, depriving you of food and sleep," he said. "But you still have to find a way to complete your mission."
What did he learn about himself during the ordeal? "'Quit' was not in my vocabulary," he quickly responded. "There are many times where the opportunity presents itself throughout the course where you can just walk away. And people do it all the time. Trust me, there were many times when the thought crossed my mind. But I would never be able to live with myself had I done that."
Going from the scorching hot climate of Georgia to the frigid cold of Alaska was a welcome reprieve for Bailey, who spent the next two years at Fort Wainwright, where he eventually became a reconnaissance platoon leader.
In August 2005, Bailey and his platoon were deployed to Mosul, Iraq, where they were thrown right into the fire, going after high-value targets – those Bailey referred to as "the bad guys you read about in the paper." Bailey and his platoon went out on three to four intensive operations a day with orders coming at a moment's notice. It wasn't uncommon to get a knock on the door in the middle of the night. "It was very intense and very tiresome, for sure, but very exhilarating at the same time," he said. "There's nothing better than finding the target you're looking for and pulling him off the battlefield. It was definitely worth every minute of lost sleep."
As a re-con platoon leader, Bailey was leading some of the best solders in the unit. "It's an amazing feeling to hit the ground and have complete control," he said. "You trust them completely and they trust you completely. It's a feeling I'm not sure can be replicated anywhere else."
Baily said the hardest times were when his men got hurt. "I was lucky. No one was killed, but I did have some very serious injuries," he said.
One of those injured was Bailey himself. Taking part in a routine patrol in a busy Iraq neighborhood, Bailey saw a car come right up beneath his army Stryker vehicle. In a split second the car, carrying a suicide bomber, exploded, sending a large piece of shrapnel through Bailey's left eye and penetrating his head.
An ambulance that was fortunately nearby took him to the hospital. Within hours he was transported to Germany and later to Walter Reed Hospital in Washington, D.C., where he recovered after losing sight in his left eye, bearing a 12-inch scar across his head.
Despite his injury, Bailey never felt sorry for himself. "I understood before I even went that that was part of the game," he said. "Having been at Walter Reed for a little while, I had the opportunity to meet a lot of soldiers that were in similar circumstances or much worse, and everybody needs a short period of time to be a victim. But at a certain point every one of us also needs a kick in the ass and to say life isn't over and it's time to move on."
The army wanted to medically retire Bailey, but he was having nothing of that. "I guess you could call it a personal grudge," he said. "Even with the loss of my eye, I felt like I was more capable than 99 percent of the other soldiers out there that I would be competing with for anything. The army telling me we're going to retire you was a no go from my perspective."
Turning down medical retirement, Bailey reached an accord with the army, allowing him to continue to serve, but not in the infantry. Looking at his record, the army decided he'd be better suited for military intelligence. Bailey spent seven months at Fort Huachuca in Arizona before moving on to Wiesbaden, Germany, where he served as a company commander.
As is his nature, Bailey took a positive approach to the change of jobs. He and his family also enjoyed the benefits of being based in Germany and the opportunity to travel throughout Europe. "You're talking about memories I'll never forget," he said.
Unable to shake the infantry mentality, though, he requested a return to Fort Wainwright. Just over a year later, Bailey, now serving as an intelligence officer, and his battalion were deployed to Kandahar, Afghanistan, where he embraced his new role. "Although it wasn't in a combat role, it gave me the opportunity to get back in the fight," he said. "I had the opportunity to provide intelligence and recommendations to the guys on the ground so I could directly influence what they were doing and how effective they could be.
"When I was in Iraq I got injured three weeks before I was set to re-deploy. So I didn't leave that theatre the way I wanted to," Bailey added. "It was almost as if there was a part of me that needed to get back to prove to myself that I could be there and I wasn't as disabled as some people might suggest."
Bailey returned briefly to Alaska before putting in for a permanent change of station and re-locating to West Point in August 2012. He spent his first year back in the classroom, passing on his knowledge and teaching eager cadets about his experiences in Iraq and Afghanistan. A first-time teacher, Bailey was selected as his department's instructor of the year.
He spent the following year serving as the right-hand man for Lt. General Robert Caslen, the superintendent of West Point, before returning to the classroom again – not as a teacher, but a graduate student majoring in organizational psychology at Columbia University. Bailey said it was quite an adjustment in more ways than one. "I'm trying to force myself to let my hair grow just a touch," he said. "I'm riding the train and the subway down to class and I'm the only guy with a buzz cut."
Hoping to complete his degree next June, Bailey is unsure where he will end up next. "Ultimately, the army will decide for me," he said.
Looking back, Bailey said he never intended to spend so much time in the military. "I thought I'd do my stint and then likely hang it up, but it's one of those things that grow on you," he said. "As you approach that date that you can potentially get out, you take a hard look at everything you have and everything you'd be walking away from. And despite the deployments, despite the hardships that come along with a military career, there's too much of an upside to just walk away."
However, that doesn't stop Bailey from pondering about life after the military and even returning home to Charlestown someday. "I could walk away and get a high position in the intelligence community in the DC area once I retire, but I would love to get back to Fall Mountain or somewhere close to home and teach a little history and coach some soccer," he said. "I know what it was like for me growing up and playing soccer with all my friends and remembering what a big part of my life that was. If I can get back into the small community piece at that time with my own kids, that would be pretty special. Maybe the small life is calling my name."
Related Stories