Research Funding on the Rise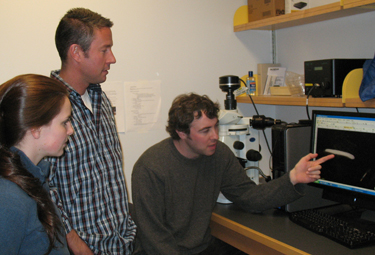 According to the Office of Sponsored Projects and Research's Annual Report, at the close of last year, more funds ($2,759,065) were granted to Keene State sponsored projects and research than ever before. As the level of sponsored research activity continues to grow, so do the opportunities presented to our students to engage in such high-impact practices as undergraduate research and creative endeavors.
Recent results from the National Survey of Student Engagement (NSSE) indicate that, by the time they are seniors, Keene State students are significantly more likely to have worked with a faculty member on a research project than their peers at our sister COPLAC institutions (44% of KSC seniors as opposed to 32% of their COPLAC peers).
"So what?" you may ask. Well, the Association of American Colleges and Universities (AAC&U) has long encouraged providing more faculty-mentored research opportunities to students because of the skills and cognitive competencies it gives them: "When they collaborate with faculty on research, students learn firsthand how experts think about and solve practical problems; their teachers become role models, mentors, and guides for continuous, lifelong learning." For more information, see the AAC&U's Why Teacher Scholars Matter: Some Insights from FSSE and NSSE.
Related Stories