We've Come to Keene State: Samuel Binogono and Promise Kpee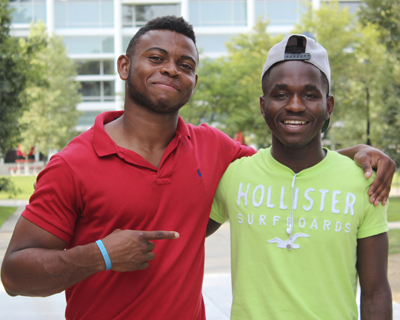 These days, Samuel Binogono and Promise Kpee are an inseparable pair as they get used to their new home at Keene State College. After participating in the College's Links Program, a six-week summer program that exposes first-time college students to the academic and social expectations of college, the two are getting their feet wet in the new the fall semester and the start of soccer season. 
Friends since middle school when they ended up living in the same apartment in Manchester, Binogono and Kpee have a lot in common. Originally from Africa, they both experienced horrifying civil wars in their homeland and had to seek safety in refugee camps. They made it to the United States as young teens and navigated the trials and tribulations of adapting to a new country and culture. Now the pair look forward to the challenges of college and aim to become successful and help their families still living in Africa. 
"I always thought it would be stupid for me to come here and not be successful and waste this opportunity," said Kpee. "There are so many people in Africa who pray every day for the opportunity to come here so they can do great things." 
"I feel so lucky and blessed to be able to come to this country," said Binogono.  "I want to make my parents proud of me by working hard and not taking this opportunity for granted."
That opportunity appeared to be an unrealistic dream for Binogono and Kpee growing up. Born in the Congo, a country located in Central Africa, Binogono found himself living in an unabated political conflict that had torn apart his country for many years. "It was tough," he said. "When the shooting started, the school would close for a few days. You go back to school after a week and it was so hard to focus."
At the age of nine, he and his family escaped the turmoil, moving to a refugee camp in Tanzania. "I had to start life all over again, learn a new language, and meet new people," he said. "It was a little bit tough, but I got through it."
Kpee, which means "lion" in his native language, spent the first five years of his life in Nigeria, a federal republic located in West Africa. When war broke out, his family got separated, and he and his older sister ended up in a refugee camp in Benin. Kpee said he and his sister made money by cooking and selling Nigerian food that appealed to the people in Benin.
Coming to the United States isn't easy for Africans. They have to make a strong case to the US Immigration Department, citing hardship and the inability to return to their homeland. Defying the odds, Kpee, who was 13 years old, and his sister came to the United States on May 21, 2008. "I will never forget that date as long as I live," he said.
Binogono also came to the United States in 2008 when his name came up on a lottery board that allows a certain number of immigrants entry into the country. Both Binogono and Kpee ended up in Manchester, a city which has several charitable organizations that support immigrants and refugees who have fled from extreme violence in Africa.   Adjusting to a new country has its share of problems, including the language barrier. "It was hard for me because I didn't know English," said Binogono. "I didn't even know how to say 'hello' to people." 
School offered its own hardships for Kpee, who spent several years taking special education classes with other immigrants. "I was always put in classes with people from other countries, so we had the same type of mentality," Kpee explained. "When I started having classes with Americans, I began to learn about their culture, and my English improved. Everything started clicking for me."
"I had to push myself to learn it because I wanted to be like everybody else," said Binogono.  "I didn't want to be the one person staying behind."
Highly motivated, Kpee initially did well in middle school, getting As and Bs. His one C came in cooking class. "I didn't know about American food," he said. "They were talking about hamburgers and cheese, and I had no idea what they were talking about."
Struggling at times to adapt in school, Kpee and Binogono quickly gravitated to sports, where their natural athletic ability brought a sense of pride and accomplishment. Binogono became a high-scoring striker for the Manchester-West soccer team, while Kpee starred in both soccer and track at Manchester-Central.
"Soccer turned my life around," said Binogono, a two-time All-State player who helped lead the Little Green to consecutive Division I State Championships in 2011 and 2012. "I met new people that helped me with life."
One of those people was his coach, Chris LaBerge, who Binogono called a father figure. "I'm proud of Sam. He has a lot of work to do, but he's parlayed his soccer gift toward a fantastic opportunity at Keene State," said LaBerge. "He's a very skilled striker who scores beautiful and tricky goals."
A speedster with uncanny skill, Binogono, who stands five 5' 8" and weighs 140 pounds, finished his soccer career at Manchester-Central with over 60 goals, including goals in the semifinals and finals of the 2012 NHIAA Tournament. Where did he come up with such amazing technique? "All I do is watch soccer on the computer videos," he said.  "I'm a quick learner, so every time I see a new move on YouTube, I just go out and practice it."
A talented All-State midfielder on the Manchester-West soccer team, Kpee was also a gifted track athlete, who won the State Division II indoor long jump championship as a junior. "I've been coaching track and field for 20 years, and Promise is the best athletic specimen that I've ever seen," said Manchester-West track coach Lee Hess about the sturdy 5' 11", 185-pound Kpee. "He's totally unique."
Kpee pursued his athletic endeavors despite increasing family and work responsibilities. Void of a father figure in his life (his dad died in 2007) and missing a mother he hadn't seen since leaving Africa, Kpee admitted that his focus in the classroom sometimes waned. He learned the hard way that his natural athletic ability could only take him so far. Missed practices and faltering grades—not to mention a propensity to associate with a bad crowd—almost led him down the wrong path.    "Promise had broken so many promises," said Hess. "I think he realized when he became a senior that he made some bad choices."
"Reality started to hit me," Kpee confessed.  "As good as I was in sports; grades are where it's at. I realized if I didn't get my grades up, I couldn't go to college, and if I can't go to college, my family is going to be real disappointed, and I can't help them out as much as I want to."
Keene State offers a new beginning for Binogono and Kpee. They got off to a good start by doing well in their Links' classes. "They both did very well," reported Maria Dintino, the associate director of KSC's Links Program. "It's a real learning curve. They are first-generation college students, so it's really a culture shock."
Taking a full load of classes and playing varsity sports isn't easy. However, Dintino feels Binogono and Kpee are ready to take the next step. "I think this summer was a real opportunity for them to figure a lot of things out," she added. "We saw tremendous growth in terms of their adjustment and transition to college. I think they are much better equipped to begin the fall semester on the right foot."
Taking over the reins of the Keene State soccer program this season, Rick Scott says the two freshmen have also made a smooth transition to the team. "They've fit right in with our guys, doing some pre-season conditioning and watching some World Cup games together," said Scott. "I don't think they will have any problem adjusting to our game, and our guys will have no problem adjusting to their play."
Scott feels Binogono and Kpee bring more to Keene State than just their soccer skills. "The value of what these kids bring to our team goes beyond what they can do on the soccer field," he said. "Our players have never had to go through what either of these guys went through back in Africa. "Our kids are going to be good for them and they're going to be good for our kids."
Related Stories