Students Travel to Nepal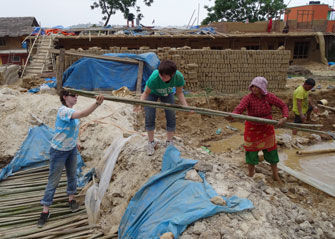 Getting set for his senior year at Keene State College, Matt McDougal considers himself to be a pretty seasoned traveler. He spent the summer following his freshman year in Italy and Greece, and over the holiday break this winter went to Hawaii. But the theatre major from Moultonborough, NH, found himself on a foreign stage when he traveled to Nepal in May with fellow members of the College's Morris-August Honors Program.
"No matter where you go, there will be a number of similarities and differences," he said. "But the trip to Nepal was definitely the biggest stretch in terms of the culture and the people that I met," he said.
The two-and-a-half week trip to Nepal, a landlocked nation (about the size of Tennessee) in South Asia and bordered on the north by China and on the south, east, and west by India, was organized by Keene State professors Dr. Renate Gebauer and Dr. Thomas Bassarear. "When I was on sabbatical two years ago, I traveled to Nepal and it was such a life-changing experience for me I wanted to take students there," said Gebauer, who teaches environmental studies.
An education professor, Bassarear, whose connection to Nepal dates back to his time in the Peace Corps 30 years ago, teamed up with Gebauer to teach an honors course, Global Engagement – Nepal, this spring. The seven students in the class prepped for their trip by taking a crash course about Nepal, learning its history, politics, religion, and culture.
"We became in love with Nepal before we even got there," said Laken Thomas, a junior architecture major from Bangor, ME. "It helped our understanding and appreciation of the country."
The students got additional insight into the country from Tek Bahadur Dangi, Bassarear's friend from his Peace Corps days, who spoke at Keene State in March. Bassarear said Bahadur Dangi touched on many topics during his talk, including the people of Nepal. "He told the students when people first go to Nepal, they tend to go because of the jungle and the mountains, but when they go the second time they go for the people," said Bassarear. "The people are magical."
Despite the long trip, which included over 22 hours in the air, the students were eager to finally see the country they had talked so much about. "All of our faces were plastered to the windows. We were absorbing all the visual information that was just bombarding us – the sites, the smells, the sounds," said McDougal of the group's ride from the airport to a sustainable community in the Kathmandu valley. "It was such an interesting process of having to temporarily rewire our brains. And yet it was so much fun and exciting because it was so different."
The students spent the first week at a sustainable community run by the Kevin Rohan Memorial Eco Foundation, which commemorates the life of Kevin Rohan, who died tragically at the age of five. Using his inspiration, Rohan's parents began the Foundation to continue working to enrich the lives of others.
Rising early, the students spent the first part of each day helping to build a café that would be used for people to come together. Although the work was hard and the tools and materials rudimentary, the KSC students were motivated by the cause and the chance to interact with local villagers. "They were extremely nice and very patient with us," said Danielle Fallette, a junior psychology major from Raymond, NH. "They showed us how to do things and if we did it wrong they showed us again and smiled. I never realized how much you can communicate with someone without words."
"A lot of it goes back to the people, who are so open, friendly and generous," said Bassarear. "Most Nepali people have a hard life physically, and yet their happiness was palpable.
The afternoons was were traveling around the country, taking a flight to the Himalayas, and seeing some of Nepal's iconic symbols like the Hindu temples and Buddhist complexes in Kathmandu.
The students also visited the International Centre for Integrated Mountain Development (ICIMOD), an organization that teaches people in the region about globalization and climate change. They learned about the Wall of Hope project, in which participating schools and communities paint signs of hope to advocate for human rights. The group also had the opportunity to meet Siena Fleischer, a USAID officer and the daughter of Keene State professor Len Fleischer, at the US Embassy. She talked to them about USAID, the lead United States governmental agency that works to end extreme global poverty and enable resilient, democratic societies to realize their potential.
The students spent their second week in Tansen, a municipality in the hills of western Nepal. Living in homestays, the students got to experience the daily rituals of Nepali families and work on their individual research projects. Taking hands-on learning to another level, Keene State students partnered with Nepali students to explore a wide range of topics. "I think it's good for the students to have their own experiences with Nepal students of their own age," said Gebauer. "If I went I would ask completely different questions."
The Nepali students went out of their way to make sure their counterparts from Keene State got the information they needed. Thomas, whose project centered on the changing construction and architecture in Nepal, connected with a student named Paru. "Her major wasn't architecture, but she was so compassionate and determined to fill me in on as much information as she could cram into my brain in the three days we had together," said Thomas. "Paru knew that I had to do this research project and she wanted with every inch of her body to help me."
While in Tansen, the group spent a night in a village inhabited by Magars, one of the oldest ethnic groups in Nepal. That night, the people, adorned in their native attire, entertained the students by dancing and singing. The unique cultural exchange was enhanced when the KSC students sang a Nepali song they had learned. "The Nepali people just loved it because they never had a group of Americans come and sing a song in their language," said Bassarear.
"What was beautiful about that evening was the students themselves responded to it. They might have been embarrassed if they were back in the United States," said Gebauer. "They reacted spontaneously and got out of their comfort zone."
The trip provided the Keene State students with a rare learning opportunity. They learned not only about a country and its people, but also about themselves.
The stark contrast in lifestyles between their own back in the United State and that of the Nepali people wasn't lost on the students. "I became a lot more appreciative for what I have here in America and at the same time it made me a little upset how much more happy the Nepali people seem to be than any American I have met – and yet we have so many more amenities than they do," said Thomas.
McDougal came away from the trip with a question: What things do we need to get by? "When it comes right down to it, Nepal might be a third world country economically and politically, but culturally they are so much richer than anything I have seen or experienced," he said.
"The trip was completely life-changing. I never considered it before but after taking the class and going to Nepal I'm considering going into the Peace Corps after I graduate," said Fallette. "I'm learning the value of other cultures, and if I travel anywhere, I don't want to travel as a tourist. I want to go into the country and learn about it. You don't really learn about a country until you go live with the people and learn their culture."
"They were overwhelmed at times with the poverty, overwhelmed at times with the heat and overwhelmed at times with the lack of material comforts," said Bassarear. "But they were sustained during that time by the generosity and the sense of community of the group from Keene State and Nepali people, and just had a ball."
Related Stories