I'm Coming to Keene State – Samantha Brault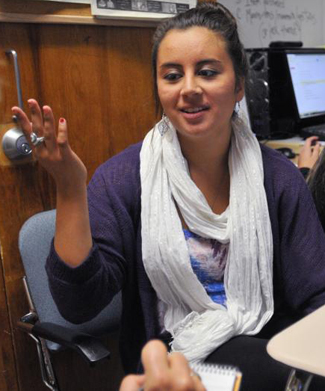 When Samantha Brault sat down to watch the movie "Freedom Writers" seven years ago, the South Hadley, MA, native who is entering this year's freshman class at Keene State had no idea the impact it would have on her life.
The 2007 drama tells the story of a young teacher, played by Hilary Swank, who inspires her class of at-risk and self-segregated students to learn tolerance, apply themselves, and pursue education beyond high school.
In one of the scenes, Swank's character, Erin Gruwell, intercepts a racist drawing by a student and utilizes it to teach the class about the Holocaust. Gruwell invites various Holocaust survivors, as well as Miep Gies, the woman who sheltered Anne Frank from the Gestapo, to talk to them.
The movie not only had a profound effect on Brault emotionally, it helped steer her to Keene State. When she heard that KSC offers a major in Holocaust and Genocide Studies, Brault knew it was the place she wanted to go.
A history buff, Brault said she has always been interested in the Holocaust, and the movie deepened her interest. "I love the movie and the impact the teacher had on all these kids," said Brault. "I started reading The Diary of Anne Frank and other books about the Holocaust. My interest took off from there."
In addition to reading, Brault enjoys many activities, including sports. She played a couple of seasons of basketball and four years of field hockey for the South Hadley High Tigers. A goalie, Brault enjoyed the physical nature of field hockey. "It sounds funny, but I really like getting dirty and diving around and being aggressive," said Brault, who was kept very busy between the pipes this past season, finishing with 213 saves.
"From the first day that I met Sam, I knew that she was going to be a standout student athlete," said South Hadley High Field Hockey Coach Tara Cole. "Our team was looking for a JV goal keeper, and even though Sam never played the game before, she stepped up to help her team and fill that role. By the time Sam graduated, wh was one of the top goalies in Western Mass.
Cole was even more impressed with Brault's commitment to her studies and her school community. "Many students will excel on the field and in the classroom, but not many will leave footprints on your school community - that is exactly what Sam did at SHHS, and what I know she will do at Keene State," said Cole, who also served as Brault's work-based learning teacher.
Brault was always there to lend a hand. When the athletic trainer at South Hadley High unexpectedly passed away, Brault was intricate in organizing the student body and assisting in the healing process, not only for herself, but also for her peers. She organized fund raisers for memorial plaques and proposed a memorial scholarship (which was approved) in his name. "Sam left her mark with us, and she will, proudly, leave her mark at Keene State," said Cole.
A strong student in the classroom, Brault served as editor-in-chief of Spotlight, the high school's student newspaper, last year. She says she enjoyed writing about the concerns of students and teachers and putting their ideas out there. She also liked the fact that Spotlight is a completely student-run publication, giving her the freedom to tackle many topical subjects.
Brault's hard work at South Hadley High earned her several prestigious scholarships, including the Keene State College President's Enrichment Scholarship, which recognizes first-year students who display high academic performance. She also received the Brandeis University Book Award and a scholarship from the South Hadley Historical Society for her essay about an underground tunnel, found under a dorm at Mount Holyoke College, that helped slaves find freedom in the North.
Brault should be well-versed about the Holocaust when she arrives at Keene State. In addition to her reading and research, she visited Poland and Germany this summer and got a first-hand view of several Nazi concentration camps, including Auschwitz-Birkenau and Kraków-Płaszów, which was made famous in the book and film Schindler's List. Brault called the experience "profound." "It was obviously nothing you're going to be able to experience anywhere else," she said.
Brault, who has visited the Holocaust museums in Boston and Washington, DC, knows she's only scratched the surface so far. "It's going to be great to learn more about the Holocaust when I come to Keene State," she said.
Related Stories