The Impact of Images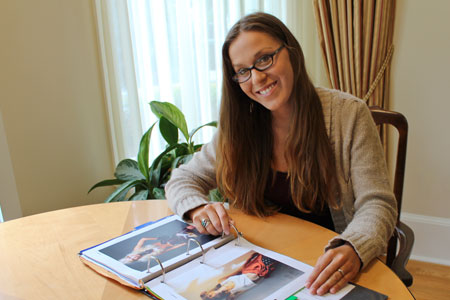 "Why do we dislike ourselves so much sometimes?" asks Nicole Baker. "We're not born hating our bodies. We're not born with low self-esteem. We're taught that. And how are we taught that? I think society plays a huge role – the media, television, magazines, Internet."
Baker, a Keene State senior double-majoring in psychology and management, spent her summer exploring just how much impact the media has on women's images of themselves. One of three students awarded Summer Undergraduate Research Fellowships (SURF), she was funded to conduct a study that investigates the role of images of underweight women in the media on women's self-esteem and body satisfaction.
With the help of her faculty advisor, Nashla Feres of the Psychology Department, Baker looked at previous research on the topic and designed and carried out an experimental study. She conducted individual interviews with 90 women aged 18 to 26 and showed each 20 pictures of models from magazine advertisements, asking questions designed to get them to actively engage with the images. Then she had them fill out questionnaires rating how they usually felt about their physical appearance and about themselves, and how they felt about those things at that moment.
A third of the study participants were shown pictures of underweight models, a third were shown pictures of healthy-weight models, and a third—the control group—were shown pictures of male models.
"Does viewing those images of the underweight women cause low self-esteem? Does it cause body dissatisfaction? I believe that it probably does, and I will see when I analyze the results," says Baker. "It will be interesting to see if people come out with higher self-esteem and lower body dissatisfaction after viewing an average body."
Baker says she's always had a passion for studying and interacting with people—figuring out why people do the things they do. That's why she loves the field of psychology. And "when you love something," she notes, "it's so much easier to go to school."
A nontraditional student who spent three and a half years in the Air Force before enrolling full time in college, Baker had taken online courses in the military and did well, but was a bit nervous before embarking on the classroom experience at Keene State. She didn't need to be. "I actually did a lot better with in-class lectures," she says, "and that boosted my self-confidence, and helped me realize that I can be a good student. Having good professors here, that helps as well. I've had a lot of good professors who believe in me and have allowed me the opportunity to excel."
One of those professors is Feres, her research advisor. Applying for the Summer Undergraduate Research Fellowship, Baker says, involved a lot of hard work and a lot of late nights. "I couldn't have gotten there without my faculty advisor and her having faith in me," she says.
Because of that work and that faith, Baker now has the opportunity to contribute to the body of research on women's body image.
"The woman that's portrayed in the media is often underweight," she says, "and that woman just keeps getting thinner and thinner, and she's so discrepant from the average woman. We're looking up to that woman being portrayed, so of course our self-esteem is going to be so much lower. That's who we compare ourselves to, you know?"
Related Stories