August Price '14, Counseling Young Substance Abusers on Penikese Island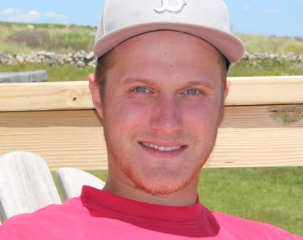 Flush with rich educational and work experience, cum laude psychology grad August 'Gus' Price '14 packed his bags and headed to the Penikese Island School off Cape Cod to work as a counselor. Penikese is a non-profit, short-term residential treatment program for boys, ages 14 to 17, with substance abuse issues coupled with "internalizing" mental health challenges—anxiety, mood, attachment, and trauma. The school provides an intensive setting where clients are exposed to a mindfulness approach and cognitive behavioral therapy. Residents at Penikese can find themselves chopping wood, building boats, gardening, fishing, and beach combing each day, as well as meeting with a therapist for individual sessions. It's a perfect fit for Price, who interned at the Phoenix House, the substance-abuse treatment center in Dublin, NH, while he was at KSC and worked as a note taker for students who needed the help and as a cook for four years in the Zorn Dining Commons. As part of their therapy, Price will be teaching the Penikese boys how to cook.
Price credits his experience at Phoenix House for leading him to his current career path. And his teachers at KSC: "The encouragement and consistency among all of my professors was another big reason I chose to be in this field," he explained. "I often felt that they had my best interests in mind and were willing to go above and beyond what was expected of them to see me succeed. I routinely felt comfortable asking questions during a class, and being able to approach a professor at his or her office after class was a wonderful bonus."
Price also gave a lot of credit to his Sodexo managers at the Zorn: "They helped by being extremely flexible with my schedule so that I was able to pursue literally any class or internship I desired," he said. "Each semester they asked me what days and shifts I wanted to work at the dining commons, and they were able to provide me with those exact shifts. I cannot think of any other job that would be so flexible and supportive."
Penikese made a wise choice in hiring this dedicated and enthusiastic young professional. "I hope to be an important and influential role model for the clients I am currently working with," Price said. "Every day I try to provide a resource for positive energy and mindful behavior. My biggest goal is to show the young men here that life can be unbelievably rewarding without the aid of substances."
Related Stories