Dr. Prudence Cuper Named Distinguished Teacher of the Year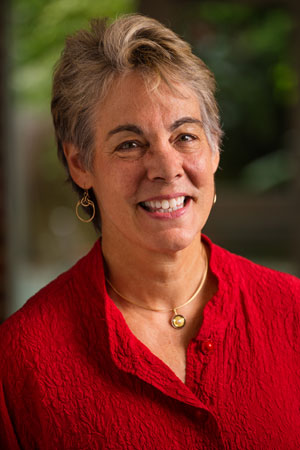 Education Professor Recognized for Dedication to Student Success
Keene State College today announces that Dr. Prudence Cuper, Professor of Education, is the recipient of Keene State College's 2014 Distinguished Teacher Award, for her commitment to student success and the field of education. The award is presented annually by the Keene State College Alumni Association to recognize excellence in teaching, encouragement of independent thinking, rapport with students and effective student advising. Dr. Cuper is the 44th recipient of this distinctive honor.
Dr. Cuper joined the Keene State College Education Department in 2003 after completing her Ph.D. in Curriculum and Instruction as a Kenan Research Fellow at North Carolina State University. Since her arrival, Dr. Cuper has taught within the Elementary, Secondary and Graduate Education programs as well as within the College's Honors program. From field-based Methods courses in surrounding partner schools to Honors Global Engagement courses that involved service-learning projects in Peru and Belize, Dr. Cuper is grateful to have had the opportunity to develop and deliver curriculum for a range of Keene State courses. Beyond her instructional efforts, Dr. Cuper has served as co-chair of the Education Department and assistant dean for the School of Professional and Graduate Studies.
Dr. Cuper's scholarship focuses on developing curriculum that encourages reflective practice and appreciation of cultural diversity. She shares her work through professional journals and regularly presents at local, national and international conferences. Dr. Cuper recently co-authored a text on fostering global citizenship through faculty-led international programs that combined her knowledge of curriculum development with her growing interest in international teaching and learning.
Numerous faculty members, students and alumni nominated Dr. Cuper for this honor. They are clearly inspired by her dedication to student success and the field of education. As a colleague says, "Dr. Cuper demands much from her students and is able to pull the best from them. She maintains contact with former students and is viewed by many as a lifetime mentor. Her finesse and her ability to connect deeply with students are reasons she is so well liked and respected." One of her students says, "She genuinely wanted every single student to succeed, and made sure she was there to guide us to success." Finally, a Keene State alum shares that "I have viewed Dr. Cuper as a distinguished teacher from the moment I met her. She truly cares about Keene State College and the wellbeing of the students here. It is quite apparent that she is continually trying to further her education, in turn inspiring her students to do the same. She truly encompasses all of the qualities that make an exceptional person and teacher."
"I am profoundly honored to be the recipient of this award. I believe it holds particular meaning for me as I am a career teacher – from my years as a middle school language arts teacher in New Jersey, to teaching a variety of undergraduate and graduate courses at NC State, to my work with future teachers here at Keene State, I am deeply committed to this field. In fact, I believe that education is inextricably linked to the healthy evolution of society. To me, it is the best and perhaps only way for all children to be given a fair and supportive opportunity to develop their fullest potential," said Dr. Cuper.
Related Stories