I'm Coming to Keene—Dancer Hanna Patterson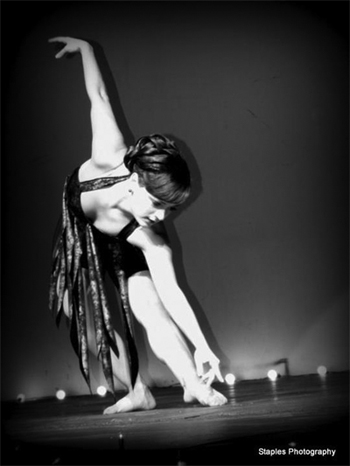 Presque Isle is considered a pretty remote part of Maine, and it's certainly remote from Keene. But it's not as remote as the possibility of a dancer with little technical training winning the Theatre and Dance Department's prestigious Talent Scholarship, though that's just what Hanna Patterson, an incoming freshman from Presque Isle, did this summer.
To apply for the scholarship, students meet with Theatre and Dance Department staff for a 20-minute audition and conversation. Usually, students audition with dances or scenes they have performed in the past year under teacher direction—pieces that the teacher has choreographed or directed and that the student has performed a number of times for an audience. Hanna didn't go that route. "She said she was so overwhelmed with gratitude for the opportunity to be part of the KSC community and be able to pursue dance," said Professor of Theatre and Dance Elisabeth Roos "that she choreographed her audition piece especially for us to share her feelings."
Was it a tough decision for the judges? "We saw so much raw talent in her that there was no question that she was our scholarship winner," Dr. Roos recalled. "She is going to raise the 'barre' for many of our students."
For a dancer, Presque Isle isn't exactly the land of opportunity. Hanna couldn't take dance lessons until she was 12, and there was only one small studio within a 100-mile radius of her home. She's never had a formal technique class. Much of her technique comes from what she's made up or learned from YouTube videos. But her love of her art has pushed her to succeed, despite the odds against her. "I have so much inside of me that I can't communicate in words I have to dance it out," she explained.
And though her talent may be raw, it's laser focused. "Hanna's audition solo was inspired and heartfelt; she's a lovely performer whose presence draws you into the world she is creating," said Keene State's Dance Program Director Marcia Murdock. "Her performance also demonstrated sound technique and a clear understanding of the principles of choreography. On top of that, she was so comfortable during the interview—confident and obviously impassioned by dance and all it has to offer. She's a perfect fit for our program."
So expect to hear more about Hanna Patterson when she gets to campus this fall. Pretty clearly, she appreciates the opportunity she has, and plans to make the best of it. "When I graduated in 2012, I never imagined that going to school for dance would even be an option, so I spent my time working at the studio that I had been taught in and working full time at a hotel," Hanna said. "Now that I'm very close to leaving for KSC, I couldn't be more thrilled. The chance to come to this incredible school and follow my dream is something that I can still hardly wrap my head around. When I came for my first tour in March, I felt like I was at home as soon as we pulled onto campus. Then I got to meet some of the faculty at the Redfern, and I just knew that Keene was where I was supposed to be. William Seigh, especially, has made a huge impact on my decision, just in the two times that I've had the privilege of talking to him. He, and the entire crew that was there in the room when I auditioned for the scholarship, gave me the validation I needed to 'defy the odds' so-to-speak and leave my little town. 
"Again, I'm thrilled to be a part of the Keene community. Its small-town feel with its big-dream opportunities were just what I was hoping to find in a school, and I'm happy to have found it there."
Here's Hanna practicing the piece she did for the audition:
Related Stories