KSC and NH DOE convene 500 educators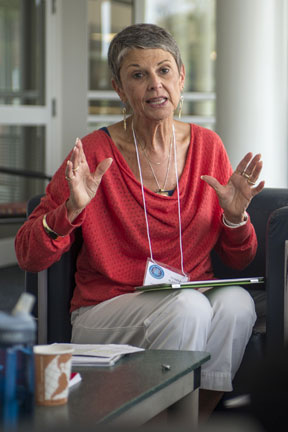 Keene State College and New Hampshire Department of Education Convene Nearly 500 New Hampshire Educators for a Summit on Learning
Third Year of Partnership Focuses on Transforming Teaching Across the State
The Southwestern NH Educational Support Center at Keene State College and New Hampshire Department of Education (NH DOE) are bringing together nearly 500 teachers, administrators, community members, and parent representatives, as well as leaders in educational policy and planning, in a summit designed to impact teaching and learning across the state. More than 60 schools will be represented. Educators will leave the statewide summit, which began today, with customized plans to implement in their schools, districts, or organizations over the coming year. Teams of educators will learn from state, regional, and national experts while also working with their teams on their school's unique issues or challenges identified before the summit.
"I have attended this summit every time it has been offered. It is beneficial to the students, and it is a source of fresh ideas for the teachers in my school. I have implemented some of the approaches that have been discussed during these meetings. In particular, I have learned how to infuse technology in my classroom in a meaningful way," said Carrie Sindoni, teacher and assistant principal at Henry Wilson Elementary School in Manchester. "My students are engaged more than ever. Also, because of the ideas I gathered on how to use technology, my classroom instruction is more adaptable to different learning styles. I am thrilled to participate again this year, and look forward to bringing even more ideas back to my classroom and my colleagues."
"Keene State continues to demonstrate its dedication to working closely with the New Hampshire Department of Education and schools for youth in kindergarten through 12th grade. We all must work together to prepare young students to embrace the opportunities and challenges that will be presented to them during the years to come. We are thrilled to welcome educators from every corner of our state to our beautiful campus," said Dr. Walter Zakahi, Keene State College Provost and Vice President for Academic Affairs.
"Teachers in New Hampshire play a critical role in the success of our state in many ways. Our teachers are caring and full of creativity, determination and ingenuity. Pulling all of these great minds together makes a great impact on the children we serve. We are thrilled to once again join Keene State College in this endeavor," said New Hampshire Department of Education Commissioner Virginia Barry.
Keynote speakers are Dr. Tony Wagner from Harvard University; Dr. Yvonne Spicer from Boston Museum of Science; and Dr. Dan Rothstein and Luz Santana from the Right Question Institute.
More on Keene State College's Southwestern New Hampshire Educational Support Center, can be found at www.keene.edu/conted/swnhesc/.
Note to journalists: Contact Kelly Ricaurte for interviews with Keene State College officials and educators who attended the conference.
Related Stories