Mike Gyra '82: One Inspiring Teacher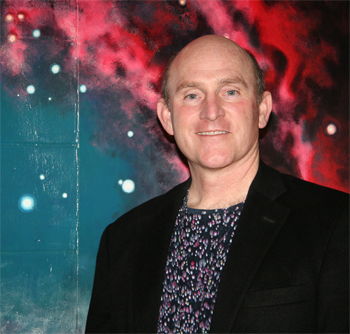 An astronomy teacher at Barnstable (MA) High School for 25 years and a Keene State College alumnus, Michael Gyra '82 has spent his career enlightening students about the vastness and beauty of the universe, pointing out planets, searching for stars, and checking out constellations.
Because the universe is ever-changing and unpredictable, Gyra refrains from using a textbook or Star Trek gimmickry. Instead, he relies on a successful formula that includes current periodicals, the Internet, and a project-based curriculum – not to mention a friendly, dynamic, and inclusive style of teaching that features his wonderful sense of humor – to bring the galaxy and beyond into the classroom.
"I find it's just like in third grade – kids are into space and it seems like they don't lose interest in that topic," he said. "They get the sense they are learning a current event that's applicable and significant in their lives."
Gyra might be able to find his share of celestial objects, but he was caught off guard when it came to a certain honor back on Earth – the Kennedy Center/Stephen Sondheim Inspirational Teacher Award he received last March. He was unaware of the behind-the-scenes effort of Russell Brillant, a former BHS student from Hyannis now attending Bridgewater State University, who went online, searching for a way to recognize Gyra for his inspiration. The stars aligned when Brillant came across the Kennedy Center/Stephen Sondheim award, created in 2010 in honor of composer Sondheim's 80th birthday.
"I was totally surprised by this award," said Gyra, who was one of six teachers honored. "I didn't know about it until I was a finalist. I was thinking about all the teacher awards where you have to write books or biographies, but this one was just based on a moment. Russell had this moment in class where something clicked with him and he wrote about that moment. He sent it in and out of the hundreds of essays they read, it popped out."
Gyra was touched not only by the award, but by Brillant's genuine appreciation for him as a teacher. "What meant the most to me was when I read his essay," added Gyra, who shared portions of the $10,000 prize with people who played a role in his career as well as with Brillant, who also got a collection of Kennedy half dollars. "I didn't care if I won. It caught me totally off guard. I didn't know he felt that way. If you met this kid, your heart would melt."
Gyra's nomination was one of hundreds reviewed by a panel of judges in the Kennedy Center's education division, center spokeswoman Amanda Hunter told the Cape Cod Times. "Judges look for the most compelling stories demonstrating the life-changing effect a teacher can have on a student," she said. Brillant said that while he learned a lot about astronomy in Gyra's class, he also learned about the importance of contributing to his community and expressing gratitude for people who support the high school.
Gyra has also made an enormous impression on many of his colleagues at Barnstable High, including Mick Carlon '82, a classmate from Keene State who has taught English in the Barnstable school system for 30 years. "The award is well deserved and about time," said Carlon. "The fact that the whole process was started by a student speaks volumes about Mike and [his wife] Mary. These are teachers who become legends because of their kindness and work ethic."
Originally from Woodstock, VT, Gyra came to Keene State to play basketball before taking a page out of Thomas Dolby's playbook and becoming blinded by science. "It was a great balance between studying hard and having an exercise outlet," he said. "It was the perfect school for me at the time."
Completing his degree and starting to work on his master's at the University of North Texas, Gyra took a break from academia and a heavy load of science courses by enlisting in the Army. Gyra said his four-year tour of duty provided him with enormous opportunity, including the chance to work with a diverse population and return to school and complete his master's degree in education at Georgia Southern University. The professors came right on the base at Fort Gordon in Augusta, GA, and taught in a beat-up barracks building. "The only time I went to campus was to graduate," said Gyra. "I stress to my students it doesn't depend where you go – but it's what you do when you get there. It gave me a totally different look at education."
Gyra's eyes were further opened while teaching literacy and basic life skills to minority adults participating in a night school practicum at the Martha Lester School in Augusta. "That solidified it for me that I wanted to go into education," he said.
A trip up to Cape Cod to visit Carlon in 1987 changed Gyra's life. Not only did he eventually land a teaching job at Barnstable High, but he met his wife, Mary, who rented a room to Carlon. "Mary advanced my teaching career because she had so much experience with kids who are troubled," said Gyra. His wife recently retired after teaching at BHS for 31 years. "She helped me become more organized and get a different perspective on teaching. She was born to be a teacher."
Initially teaching physical science, Gyra took a stab in the dark 15 years ago by offering a class in astronomy. The class took off like a comet. He currently teaches four sections of the popular elective to seniors, for a total of 92 students this past year.
How does he convey his passion for the planets to his students? "By modeling wonderment and never getting bored or tired of investigating something like the universe – which is endless. You can't get enough of it," he said. "I think if you convey that message it becomes contagious and they start to jump on board and go for the ride."
One of those rides is to the beach. During cool, crisp fall nights, Gyra and his students, along with their parents, convene at Sandy Neck Beach for star parties. Gyra totes his telescopes and Mary provides the snacks for the students, who bring blankets, sleeping bags, and pillows to the party. "I try to get the students out as much as I can," said Gyra, who lights up the sky with a bright laser he uses for his nocturnal space tour. "You get the entire horizon and it just lets them go someplace for an hour in their minds that they typically don't get to go to."
At the end of the year, Gyra also hosts an Astro Jam, a community event where each student presents a year-long project that demonstrates his or her understanding of an astronomy topic through an assortment of mediums, including paintings, movies, and dance.
Gyra is also putting the finishing touches on the Cobb Astro Park, a project he began 11 years ago. Situated in the courtyard at Barnstable High, the park is a once weed-infested field that Gyra has transformed into a mecca that includes a observatory and a path of discovery aligned with marble sculptures of great game-changers like Plato and Einstein. The park also includes water features, sundials, and a small Greek-like arena as well as a memorial garden to remember students and teacher from the school who have died.
Gyra raised millions of dollars for the project through grants and organizations and also used his army background to rally the local craftsmen, artisans, and landscapers to bring the park to fruition. "You walk in there and your jaw drops open. It's absolutely gorgeous," said Carlon. "What Mike created in the middle of Barnstable High is a work of art. He's like an artist never satisfied, always putting on that one more brush stroke. His canvas is the court yard."
"I never thought my life would go in this direction but I'm glad it has," said Gyra. "I don't think I could have been in a better profession than teaching." That point is reinforced in the essay Gyra sent to judges of the Kennedy Center /Stephen Sondheim Inspirational Teacher Award: "I am inspired by the words 'service to others is the rent we pay for being alive.' Serving students by playing a role in their 'Eureka!' moments, those crystallizing moments that may resonate with them at a crossroads and help redefine their thinking, makes teaching an honor and a privilege."
Related Stories