I'm Coming to Keene State: Dakota Umbro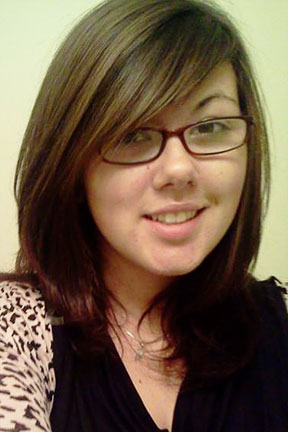 Dakota Umbro is hoping that her arrival at Keene State College this fall will bring some much-needed stability and much-sought-after independence to her life.
Through no fault of her own, the soon-to-be first-year student from Berlin, NH, has had a rough time when it comes to finding a permanent home. Growing up in an unsettling family situation, Umbro shuttled around the state, living in various locales including Nashua, Bartlett, Londonderry, and Hudson, not to mention a short and sometimes forgettable stint in the New Hampshire foster care system.
"I'm really excited and looking forward to all the new experiences at Keene State," said Umbro, who is spending the summer in Douglasville, GA, with her grandmother. "The fact that I have four years to really get comfortable and put my life on solid ground is a great feeling. There's nothing better in my eyes."
An only child with half-brothers and sisters she didn't even know, Umbro found solace in her writing as a child. "I liked to be able to express myself vividly without having to be specific," she said. "I'm pretty creative. Sometimes I didn't want to talk, so I'd just write and make up stories."
The constant moving caused its share of travails in school for Umbro, who was given the inevitable task of having to find new friends among established cliques throughout her elementary and middle school years. Just when it seemed a bit of normalcy returned to her life during her first two years attending Nashua South High School, deteriorating issues at home landed her in the state's foster care system at the age of 16.
"Everything about it was difficult," said Umbro, who found herself on the move again, living in several residential shelters in Jefferson and Dublin.
Living in Dublin, Umbro became familiar with Keene and Keene State, often coming to the city to find reprise from the monotony and doldrums of institutional life and a chance to explore and revive her creativity and imagination. Umbro readily recalls one trip to Keene when she saw the movie Who Cares About Kelsey, a poignant story that documents the lives of students with emotional/behavioral challenges and shows innovative educational approaches that help these students to succeed.
Umbro said she identified with the lead character, Kelsey Carroll, a volatile and disruptive student who was diagnosed with ADHD and carries the emotional scars of homelessness and substance abuse. "I felt she was a very strong person and that was inspiring to me," said Umbro, who also liked the character's sarcastic wit.
A survivor with remarkable self-confidence and self-pride, Umbro found refuge in Berlin, NH, where she was taken in by a foster family, Matt and Jen Buteau. Jen Buteau works for CASA of New Hampshire, a nonprofit organization whose volunteers advocate in the state's courts for the best interests of abused and neglected children so they can grow up in safe, permanent homes.
"Dakota was a very welcome addition to our family. She made such incredible positive changes and growth in one short year here. We can't wait to see her continue to maximize her potential at Keene State," said Jen Buteau. "I think she was so successful here because we had so much hope for her and set out expectations high while giving her the support and resources to make it. The people at Keene State have already continued to do this and it will be fun to watch her thrive in that environment. She knows that there is support and people she can turn to there and she also knows she has us, along with an army of friends, neighbors, teachers and coaches that she made while she was here."
Set to enter her senior year at Berlin High, Umbro surprisingly found a different outlet that helped with her transition to a new school – sports. "I got right into sports at the beginning of the year," said Umbro, who joined the school's field hockey team. "It worked out great. I had teammates to hang out with, so the transition was one of the easiest things I've ever done."
The fact that she never played sports before didn't stop Umbro, who also played on the BHS girls' hockey and track and field teams. "When Dakota first walked in during preseason she looked rough around the edges. I said to myself, oh boy, I don't think she's going to make it," said Berlin Field Hockey Coach Nicole Arguin. "But she is such a sweetheart and such a hard worker, and with our concept of team she fit right in to the type of girls we had."
Although she saw limited time on the varsity team, Umbro celebrated with her Mountaineer teammates, who upset three-time defending state champs Derryfield 4-0 to capture the State Division III crown last fall.
Leaning how to skate, Umbro was a member of a Berlin-Gorham girls' hockey team that reached the state finals. In the spring, she qualified for the state track meet in the discus. Umbro plans on continuing her athletic pursuits at Keene State, playing on the College's club hockey and rugby teams.
Tired of traveling, Umbro made one trip she will never forget in May, when she flew down to Washington, DC, to meet New Hampshire Representative Annie Kuster for the third annual Congressional Foster Youth Shadow Day. One of two students from New Hampshire chosen for the honor, Umbro shadowed Congresswoman Kuster throughout the day.
"I was so excited to welcome Dakota to Washington as a part National Foster Care Month – her curiosity and enthusiasm were inspiring," said Congresswoman Kuster in a written statement. "Dakota and the other participants in this wonderful program remind us that even in the face of difficult challenges, so many foster children exhibit resilience and hope. We must ensure that they have the resources they need to live safe, healthy, and happy lives and to pursue their own dreams and goals after high school and beyond."
Umbro told the congresswomen about her difficulties with the foster program as it related to her education. "At first I was worried about they wouldn't care about the cause, but all the people in Congress really wanted to help," said Umbro. "They asked to be a part of the cure of the system."
While finances weighed heavily in her decision to come to Keene State, Umbro said she was also drawn to the campus during her numerous visits to Keene when she was living in nearby Dublin. "I fell in love with it. The campus was beautiful and had so much to offer, said Umbro, who is considering several majors, including music, film studies, and education. "It feels more like a homey situation rather than just school."
"Dakota might not be your typical undergrad. The things she has experienced in her tender 18 years cannot be erased," said Jen Buteau. "Incredibly though, she is not jaded or bitter and instead continues to have a love of learning and eagerness to try new positive experiences. I am so happy she is going to have the opportunity to enjoy the college experience at Keene State. It will be a place where she can assert her independence in a healthy way but still have a safety net. Dakota has had to work hard for everything she has achieved; nothing was handed to her. She is so thankful and appreciative for being able to go to Keene. I think she will be the one signing up for every club and activity offered, taking advantage of all of the available resources, soaking up every word each of her Professors speak and giving it her all."
Related Stories