Kathryn Wynot Wins Service/Academic Scholarship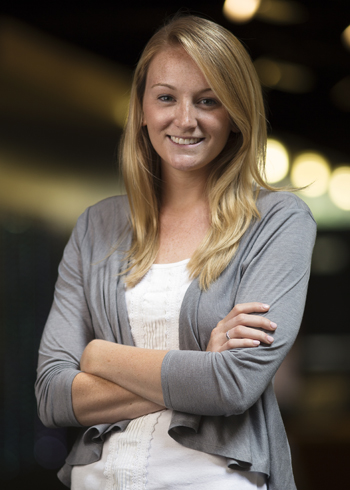 Kathryn Wynot, who will return to Keene State as a senior next fall, has been awarded a $5,000 College Equals Opportunity scholarship, based upon her commitment to academics and community service. She is one of only eight students from NH to receive the scholarship, and the only recipient from KSC. The award "provides significant scholarship dollars to deserving college students who have demonstrated exceptional leadership abilities and academic talent."
Coordinator of Community Services Jessica Gagne-Cloutier remembered that Wynot was very shy when she first came to work for the Community Service Office her sophomore year. But Wynot also had a great desire to become more involved on campus and in the community, and her confidence and enthusiasm blossomed with each task she took on. She was selected to participate in an Alternative Spring Break trip to the Florida Everglades later that year, and after that, she was hooked.
"She has found a passion for service and has really committed to engaging others through alternative breaks," noted Gagne-Cloutier. "She knows that break trips introduce students to complex social issues and ways they can apply their knowledge and skills in collaboration with a diverse community to address those issues. She's lived it, and that passion is contagious. She is a great example of a student inspiring others to engage in service in meaningful ways. Also, whether in the classroom or out, Katie is open to learning. She is perceptive, creative, and wants to apply her knowledge for good. I'm sure that her ability to articulate connections between the classroom and the community went a long way in helping her get the scholarship."
Wynot, a communication major and management minor, has maintained a 3.6 GPA, while working 20 hours a week in the Community Service Office and 20–30 hours a week at Hannaford's Supermarket as a service leader of customer service. "From this wide range of experiences through jobs, I have gained a broader appreciation for working and responsibility," she explained. "It has also led me to realize the essential attributes in myself such as helping others and working with new people on a daily basis. I have learned from being a student-employee how to manage my time and maintain a GPA that I am proud to have earned. In addition to my employment I also continue to volunteer for community service through the Alternative Break program that I currently oversee now."
"Katie's attitude and actions align very well with this award," Gagne-Cloutier said. "She values leadership, and has been an active leader through service. She understands the value of higher education and the opportunity it provides her to do good well … to advocate for others and live in a way that promotes justice and to encourage others to do the same."
Related Stories