Devin Cutter '14: Filmmaker & Photojournalist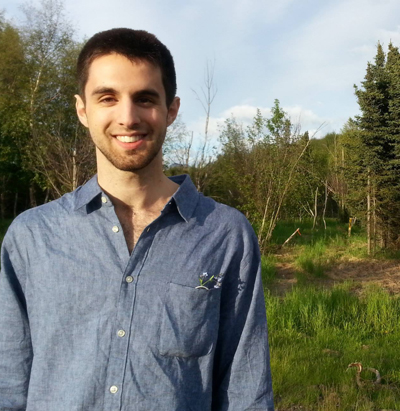 Right after Devin Cutter '14 was handed his degree, he packed his bags and moved about as far away from Keene as you can get without leaving the continent. The Film major has landed a full-time job as a photojournalist for ABC/FOX Alaska News in Anchorage.
Why Alaska? When Cutter was a junior, he met Marissa Jerome, a student at the University of Alaska Anchorage who was attending Keene State via an exchange program. The two made one of those special connections, so he'd decided he was moving to Alaska even before he graduated. When he learned that the Anchorage ABC station was looking for a photojournalist, he sent in his resume and a demo reel of his film work and got a call from the news director the next day.
"I work both individually and with reporters covering general assignment news stories, press conferences, breaking news, and natural sound news packages," Cutter explained. "As a photojournalist, I deal primarily with the cameras, sound, and video editing aspects of daily news production for broadcasts at 5 p.m., 9 p.m., and 10 p.m. The job is very fast-paced, but fun, and I get to travel around the state, see places I normally would not have the opportunity to, and meet a variety of different people. So far I've done a number of different stories during my short time here, including covering local businesses, motor vehicle accidents, house fires, a hostage situation, charity events such as Relay for Life and the Vans Warped Tour, and even a press conference with U.S. Secretary of Defense Chuck Hagel."
As a Film major, Cutter concentrated on film production. "I think the experience that best prepared me for this job were my roles as production manager/cinematographer/editor during my Production 3/4 classes with Ted White," he said. "In this class, I was a part of the crew that made Annex, a project that provided multiple opportunities for real-world work experience. Planning, communication, networking, and preproduction elements are critical to any type of video production, and it was during this time that I learned this and really developed these skills. Annex was such a massive undertaking that never would have been possible had we not planned or been as conscientious of every detail as we had been, and even still it took far longer to complete than anticipated. Working in a newsroom requires a lot of the same skills, networking ability, and on-the-fly planning when it comes to cinematography, due to the fast-paced nature of the business. It's different from making a movie, however, because you don't have a lot of pre-production time or time on set to plan and refine your piece. You have to be aware of your time, what is happening, and your camera work when on a scene in order to get the best material possible, and as much of it as you can—coverage is key."
Here's one of Cutter's recent video stories about the recovery of a 60-year-old military plane wreck in a glacier in Palmer. "I worked with one of the reporters here in the newsroom and was responsible for filming and editing the piece," he said.
Related Stories