I'm Coming to Keene State: Quentin Bazarnicki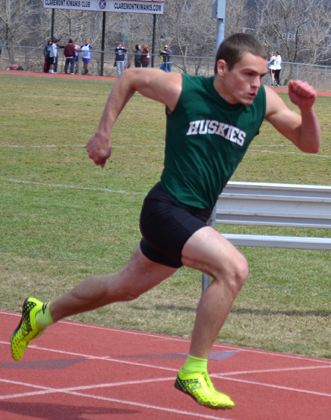 The list of student athletes from local high schools who've decided to stay near home and attend and compete at Keene State College is long and impressive. Several, including recent softball standouts Jenna Patnode from Surry and Swanzey's Ashlee Nicholson, not to mention Ian and Ryan Hart, a pair of top-flight lacrosse-playing brothers from Richmond, have made their way up Route 10 to join the Owls after playing at Monadnock Regional High School.
Now you can add Quentin Bazarnicki to that list. A top student athlete at Monadnock Regional, Bazarnicki, who lives in Gilsum, will run track at Keene State. After moving several times and switching schools growing up, Bazarnicki, who was born in Tacoma, WA, likes the idea of staying close to home to attend college. "I originally thought I wanted to go far away. But as time came closer, I really didn't want to do that," he said. "I was looking for a smaller school, so decided to stay local and go to Keene State. It's a good school with a good track program."
"He did look at other schools, but wasn't interested in going to a big school or going halfway across the country," added his mother, Andrea. "It was out of his comfort zone. "He's at his best when he's in his comfort zone."
Bazarnicki has certainly found his comfort zone on the track. Competing for the Huskies at the NHIAA Division II Indoor State Championships at Dartmouth in February, Bazarnicki finished second in the 600, fourth in the 55-meter hurdles, and fifth in the long jump. His 4x400 relay team also placed third and qualified for the New England Championships.
He followed that up with an equally impressive spring season, winning the 110 and 300 hurdles and triple jump and coming in second in the pole vault at the Division III Championships last month at Inter-Lakes High School in Meredith. He moved on to the Meet of Champions, where he finished second in the 300 hurdles, third in the triple jump, and fourth in the pole vault, qualifying for the New England Championships in all three events.
"In a period of three years, he's developed into one of the top athletes in New Hampshire," said Tom Pickering, the head track and field coach at Monadnock Regional. "It's very rare you're going to see a kid from New Hampshire qualify for the New Englands in three events that aren't really closely related."
It's hard to believe that track didn't become Bazarnicki's primary sport until the spring of his freshman year at Monadnock Regional. "My parents actually pushed me to go out for track. I wasn't a fan. It was different from the other sports," said Bazarnicki. "But I'm glad I gave it a shot."
Mentored by a strong senior class that included Nick Athanasopoulos and Jon Hanninen, who led the Huskies to the state title in 2011, Bazarnicki went on to make a name for himself at Monadnock. A one-man wrecking crew, the versatile Bazarnicki racked up multiple points for Monadnock this spring, racing from event to event at meets. "I'm used to running around at the track meets," he said. "I just try to reserve enough energy so I can put it toward the event. It was definitely a challenge doing them at the same time."
Don't be fooled by his 5-4, 135-pound frame. Bazarnicki is a dynamo on the track, defeating athletes with more physical tools. "There are certainly bigger, stronger athletes, but he's overcome that challenge through his drive and his desire. Quentin is very competitive and compassionate about the sport," said Pickering. "He's put in as much time as any high school athlete I've ever coached."
"Quentin is a small pack of dynamite. He works harder than anyone I've seen out on the track," added Monadnock Regional's athletic director, Tom Stewart. "He's just a dedicated, hard-working athlete, and a great young man on top of it."
Used to racing around the track, Bazarnicki put up some serious mileage, making numerous trips up to the podium to receive multiple honors at the school's recent awards dinner. The co-salutatorian at Monadnock Regional, he needed a shopping cart to bring home all his awards, which included the Monadnock Regional High School Diploma of Distinction and the New Hampshire Scholars Diploma, the Eric and Greg Kochman Scholar Athlete Award and Scholarship, the US Marine Corps Distinguished Athlete Award, and NH Interscholastic Athletic Association recognition for being a three-sport athlete for all four years of high school.
A straight A student, Bazarnicki took a lot of pride in receiving the school's scholar athlete award. "I take my studies very seriously," he said. "Academics are just as important as athletics."
Considering a wide spectrum of majors from engineering to athletic training, Bazarnicki knows he will eventually have to specialize in just a few track events at Keene State. While his events might decrease, his drive and determination to succeed will keep on growing.
"His character and attitude are so positive. He's a great leader on the team," said Pickering, who also serves as an assistant track coach for the Owls. "He's really going to have an impact at Keene State."
Related Stories