Communicorps 2014 Projects Include Housing for Homeless Vets, Urban Farming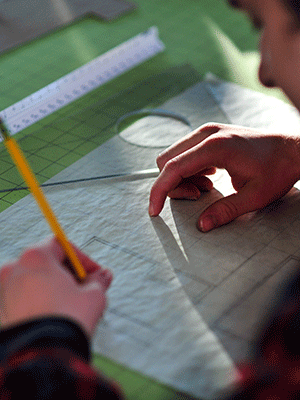 This spring, architecture students tackled real-world building challenges while at the same time helping out their community.
Every April, students from the Collaborative Architectural Project class present design plans and recommendations for individual and community organization construction projects. According to Peter Temple, professor of technology, design, and safety, the course, known as "Communicorps," emphasizes a team approach to solving real-life architectural problems. The class also allows students to experience the evolving nature of their projects and feedback from clients, faculty, classmates, and architects.
This spring, students worked on new housing for homeless veterans in Keene; urban organic intensive farming in a former mill building in Troy; a new vocational school for the building trades in Haiti; and a master plan and new housing for the Cheshire YMCA's Camp Takodah.
Related Stories