Former Owl Coates Opening Doors for High School and College Basketball Players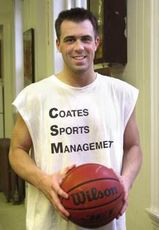 A four-year standout player for the Keene State College men's basketball team, Chris Coates always had the desire to play at the next level. Overcoming the odds, the highly motivated Hampton, NH, native became one of the few Division III players to play overseas at the time, playing professionally in Australia, France, Norway, and Hungary. Now the former Owl is helping other college players fulfill their dreams of playing abroad.
Anticipating the end of his playing career, an enterprising Coates, with the help of his father, Steve, founded Coates Sports Management in 2002. Initially running a series of camps and clinics for young dribblers, the 2004 Keene State grad and his staff expanded their court, helping high school players prepare for college and providing college graduates with the skills and exposure to play overseas. "I just bridge the gap," said Coates about his pro-exposure events, which bring together college seniors and numerous overseas coaches he has met over the years. "If a coach likes a player they can take the next step."
Coates knows that the next step is no easy lay-up. Despite filling up the basket with multiple honors, including All-American accolades as senior and finishing second in scoring (1,970 points) and fifth in rebounds (795) on Keene State's all-time career lists, Coates knew he had his work cut out for him in earning a spot on an overseas roster. "Even though I had all the honors in the world, it doesn't really matter," he said. "Most overseas coaches and agents want Division I guys or Division II players that are 6-8 or bigger."
Coates, a savvy 6-3 swingman, attended several pro-exposure camps before signing his first professional contract in 2003 to play in France. While the perks – which included a round-trip ticket, a furnished apartment, and a car – were nice, Coats said adapting to a new country and a different language was difficult. "The people in France weren't super warm to Americans and no one on the team spoke English," said Coates. "During halftime speeches the coach would say, 'Chris, you go score,' and that was pretty much it."
Coates had a better experience playing in Australia. "The people in Australia were really awesome. There was no language barrier and they welcomed you with open arms," he said. "If you embrace the culture they went out of the way to make you feel at home."
After putting up impressive numbers in Australia and doing a good job of self-promotion, Coates went on play four more years on a higher-level Norway team, where he was named MVP and the leading scorer in the league. Playing in the NBA summer league for the Adirondack Wildcats in New York opened up another opportunity for Coates, who signed his biggest contract to play in Hungary. "They were going to set me up nicely, but I suffered a pulled ligament in my ankle and had a bout of food poisoning trying out for the team," said Coates.
Returning home, Coates tried to rehab while playing in a local men's league. "I was around 28 years old and I seemed to find my groove again, and actually had a few people reach out to me," said Coates, who also played for teams in the XBA and the USBL. "But when you take a few years off and you're not making good money, it doesn't make sense for you to go back overseas."
Coates said he had no regrets about hanging up his sneakers. "I had my time. Now I'm going to pursue other dreams," he said.
Fortunately, Coates, who had already been running successful kids' camps and clinics during the summer, had something to fall back on. He gives credit to his father for pushing him in the right direction. Taking advantage of his name recognition and realizing a need for a quality basketball camp in the area, Coates went to work, handing out a few fliers and putting an ad in the paper. "I didn't promote it much, but 75 to 100 kids showed up," said Coates. "I said to myself, I've got to keep doing this."
Coates, named Mr. New Hampshire Basketball following his senior season at Winnacunnet High School, was just getting started. In 2003, he founded the New Hampshire Spartans with the goal of improving the overall talent of basketball players in the state.
His timing was perfect. Working with kids from second grade all the way up to high school seniors looking to earn college scholarships, Coates has seen his numbers skyrocket with over 800 players now involved in the program. In addition to camps and clinics, Coates and his staff coach over 40 AAU teams.
Coates's program is all-encompassing, from teaching the basics to taking promising high school players to college exposure events and helping them get placed in college.
While Coates had a good support system growing up, the same can't be said for a lot of aspiring players, he noted. "You need someone to say, You're 6-3 living in New Hampshire and it's good that you can play the post and rebound, but you're going to have to be a guard," said Coates. "I know what coaches are looking for and what drills you should be doing in the off-season. It can make a big difference."
Coates and his staff work not only with players, but with their parents, too. "When I was going to college, nobody knew anything about NCAA rules and how the whole process works," he said. "We do a whole series of workshops with parents so they know what to expect."
Coates says the Spartans have been successful in placing players in college, mostly at the Division III and II level. "We haven't got anyone on a Division I team yet, but we're close," he said. "Every single year we're getting four to five graduating seniors on college teams."
Coates and his Spartan organization continue to branch out, running Rim Sports Complex, a state-of the art, $2.5 million facility with five indoor courts located in Hampton. "If you want to get to the next level, you've got to play year-round," said Coates, who serves as general manager of the facility.
Although he misses playing, Coates says there's a special sensation and feeling of accomplishment in helping players take their game to another level. "I'm truly doing what I love," he said. "When I first returned, I didn't know if I wanted to coach, but I knew I wanted to work with players and I just absolutely fell in love with the kids. I'd rather do this than play professionally overseas."
Related Stories