Adrienne Osborne '12 Pays it Forward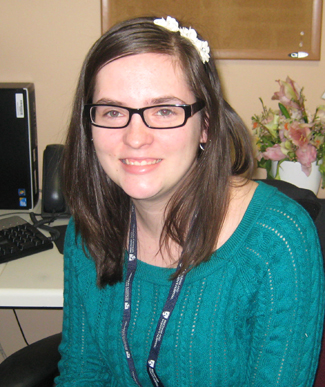 Adrienne Osborne '12, a dual sociology and film atudies major, recently finished her MS in nonprofit management (with a concentration in project management) at Northeastern University. She was also the first person to receive the new Pay it Forward Scholarship of $1000.
This private scholarship offers the recipient a choice: She can either put all the money towards her own financial needs, or she can keep some and donate some to another scholarship fund to help others with their education costs.
Keeping it all just isn't part of Osborne's character. "Giving back has always been a huge part of who I am," she said. "I was always really involved in community service and fundraising in college, which is actually what first got me interested in the masters program I chose at Northeastern. I've met some of my closest friends through volunteer work all over New England. Volunteering was my favorite part of college, especially the work I did with Circle K. I love raising money in my community for various nonprofit organizations, and I also love spending time helping those who need it (Alzheimer's Association, Camp Sunshine, and BWH, to name a few). That's why this scholarship was a great fit for me, and I instantly knew I wasn't going to keep it all for myself."
After six years of higher ed, Osborne has some significant bills to pay, so she'll apply some of the scholarship towards those, but she's determined to put the rest towards Keene State's Voluntary Service Scholarship Endowment. It's all about paying it forward.
Related Stories