Roumimper Brings Passion for Social Justice to Keene State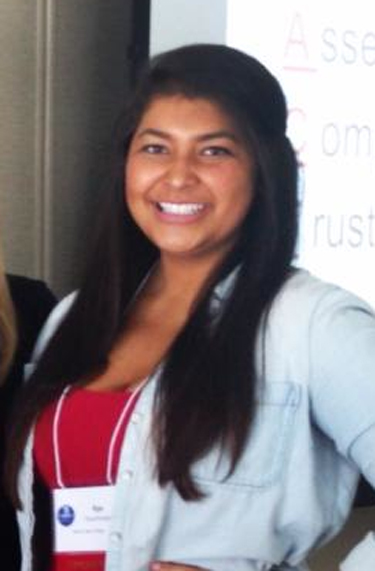 Arriving at Keene State College in the fall of 2012 from Hooksett, NH, Kya Roumimper wasn't quite ready to leave her hometown behind. Coming to campus with a boyfriend and a group of friends from Hooksett, Roumimper found herself in a comfortable yet repetitive rut. "I was just going to class, sleeping and eating, and hanging out with my friends," she said. "I finally got tired of doing that and said to myself, what was I doing?"
Roumimper found an unexpected solution to her problem when she came across a poster promoting Community Service Day on campus. Little did she know at the time that it would alter her life at Keene State and revive a passion. Waiting to head out on her assigned community service project, Roumimper had a chance meeting with Jessica Gagne Cloutier, the recently appointed coordinator of community service at the college. Gagne Cloutier immediately sensed something special about Roumimper. "It wasn't long before you realized you were talking with someone pretty special," said Gagne Cloutier. "As a first-year student she was already thinking of ways that she could give back while at Keene State – not just do service, but do meaningful service."
But Kya was just getting started. The energetic freshman immersed herself in numerous campus groups and activities on campus including Multicultural Student Affairs, Holocaust and Genocide Awareness, and the Community Service Office, where she served as events and advocacy coordinator this past semester.
The seed to do community service was planted in Roumimper when she was growing up in Hooksett. The granddaughter of Holocaust survivors, Kya was a top student and volleyball player at Manchester Central High School who had a keen sense of world issues as well as a passion to help the underprivileged – especially those who had problems putting food on the table.
Roumimper already has taken her desire to help the less fortunate abroad, going on International Service Trips to Guatemala and Panama, respectively, the past two years. "We don't typically deal with a lot of freshmen, but she was one of the first people we selected for the trip to Guatemala," said Gagne Cloutier. "After seeing her application it was a no-brainer. She gets it. You could tell Kya would come back and do something with it."
The opportunity to help the coffee farmers in Guatemala get a fair wage for their work and the chance to provide water and a pleasant school environment for the indigenous peoples of Panama struck a chord with Kya. "It really formed my love and passion for social justice and made me aware of what I wanted to do," said Roumimper about doing service work in the two countries.
"Kya challenges people, driving them to come together and work and advocate for causes," said Gagne Cloutier. "It's not just about playing and having fun with the kids, but the significance of these kids coming to school and learning."
Emotionally touched by the widespread hunger and poverty she witnessed on her trips, Roumimper, a Holocaust and Genocide Studies major, returned to Keene State determined to educate and raise awareness of the issue on campus. This fall, during Hunger and Homeless Week, she help organize the Hunger Banquet, a dinner where guests experience the inequity of food distribution by strategically being placed at tables, or even on the floor, and given meals based on an assigned socio-economic status.
At the end of the spring semester, Roumimper, in conjunction with Live Below the Line, a campaign that challenges individuals to live below the poverty line for a week, also launched a challenge, asking students to live on a mere $1.50 a day. "In another country people might have just a $1.50 a day for food," she said. "Students just swipe their cards at the dining commons and sometimes don't understand the cost of food. I was trying to educate and add some perspective about the world-wide problem."
Roumimper has also made her presence felt in the College's multicultural office. "Kya is very goal orientated. If she has a passion about something, Kya will not only learn about it, but find a way to educate students and members of the community about it," said Sandra Garcia, who just completed her first year as KSC's coordinator of Multicultural Support.
Serving as a mentor and taking a leadership role on several projects and retreats, Roumimper was asked to join a panel at the IMPACT National Student Leadership Conference in Chicago last November. Attending a workshop on identifying biased behavior, Roumimper developed a similar program at Keene State she called "I can't believe you just said that."
"People don't really notice it, but there are a lot of instances of bias and racist behavior on campus," said Roumimper, who last year headed public relations and served on the e-board for Common Ground, a multicultural group at Keene State. "Whether it's intentional or not, it needs to be identified."
Inspired and driven, she enjoys fighting for a cause and doing her part to change the world. "I like to think I have a lot of initiative and I'm pretty determined," said Roumimper, who received an outstanding leadership award from the Keene State L. P. Young Student Center in May. "But at the end of the day, I'm honestly just doing what I'm passionate about and investing in things that really mean a lot to me."
Gagne Cloutier says Roumimper has already brought a lot to the campus. "It's hard to believe she's only been around for a couple of years," she said. "I have to keep telling myself she's only 20 years old. She has two more years to build on her experiences."
Roumimper has no intentions of slowing down this summer. In June, she will head down to Atlanta, where she'll be a site leader in the national alternative break program. The following month, Roumimper will spend a weekend in Boston, getting social justice training with Oxfam, a global organization working to right the wrongs of poverty, hunger, and injustice.
"I couldn't image just doing what I did when I came to campus, going to class and going to the Dining Commons," said Roumimper. "You have to make the most of your four years because you're not going to have these options and be able to do all these things when you leave college. Why not take advantage of these opportunities? Hopefully, I'll leave a legacy behind me and go out in the world and make a difference."
Related Stories