Helping Make a Business of Writing Letters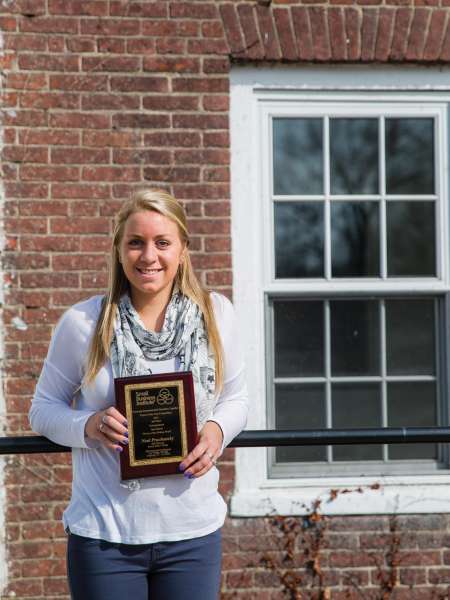 Three recent Keene State graduates got a head start on their business careers and earned national honors for a project they completed while students in a class taught by Professor Neal Pruchansky. At the national Small Business Institute conference held in Las Vegas in February, Addie Howard '14, Amanda Mills '13, and Colleen Carey '13 won second place in the Undergraduate Specialized Project of the Year category.
Keene State's Small Business Institute (SBI), a seminar course in Keene State College's Management Department, provides a field-based opportunity for students to work in teams as consultants to local small businesses. Senior management students assist companies with specific needs, including business planning and development, market research, competition analysis, financial management, production, and human resources management.
Addie Howard writes about "Power of the Written Word," the SBI project that earned her team a national award:
During the spring semester of 2013, I was part of a team with two other young women working with FromABirdie (fromabirdie.com), an Amherst, Massachusetts-based online service that facilitates letter writing. We evaluated FromABirdie from a marketing perspective, analyzing the business and the opportunities to increase awareness of the website, and also came up with a pricing strategy because FromABirdie was a free service at the time.
FromABirdie was an interesting company for us to work with, as it merges the low-tech art of thoughtful letter writing with the convenience of an online platform. We spent considerable time analyzing competitors who offered a similar service and got ideas for creating revenue for FromABirdie. Not only did we conduct an analysis of the current website and come up with recommendations to make it more successful, but we also gained the experience of putting together a potential marketing plan to reach new customers.
We began the project by analyzing the external environment; in other words, we researched potential opportunities and threats for FromABirdie in the contexts of technology, demand, and competition. Next, we looked into these opportunities and threats and created recommendations for FromABirdie to improve its business – including a pricing strategy based on a free try-out and a virtual "coin" system, and a promotion strategy that suggests advertising in the national PTA journal.
SBI is part of a national program that features annual conferences and awards. In 2013, Keene State entered two competitions and won both. In 2014, my team finished second in the Specialized Case competition.
I have enjoyed the experience that SBI has provided for me and have learned much from this program. It has helped me understand the way small businesses operate and create new opportunities for revenue. I have also learned about marketing and research methods, as well as how to think beyond the horizon in helping a business. I've especially enjoyed my SBI work with start-ups – it's terrific seeing how they actually take our recommendations and use them to make their companies grow.
– Addie Howard '14
Related Stories