Internships: Windows into the Working World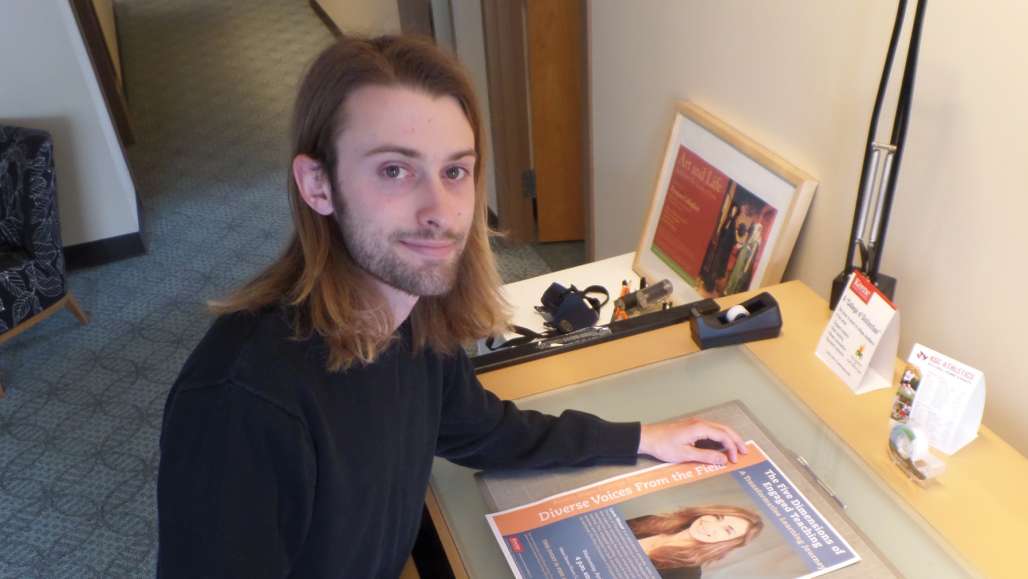 Think of them as trial runs for a particular job or career. Internship opportunities abound for Keene State students, offering them a feel for a particular career path along with real-world experience for their resumes.
Hayley Kenyon '14: 'Building' on Classroom Experience
After taking two construction management courses, architecture major Hayley Kenyon wanted to connect what she'd learned in the classroom to what happens on a job site. A faculty member lined her up with an internship with MacMillan Co., a Keene-based construction company that was building a new Cheshire County district courthouse near downtown Keene. Through the fall semester, Kenyon spent two mornings a week at the site, working alongside Rick Bushway, MacMillan's project superintendent.
What did she learn? "There are often disconnects between what is shown on the architectural drawings and what needs to be built," she says. "For example, there are Americans with Disabilities Act requirements for the toilet partitions that were identified in the subcontractor's shop drawings, but they didn't appear in the construction documents. Rick and I had to make sure the requirements were actually built and were reflected in the 'as-built' drawings."
The internship was valuable, Kenyon adds: "Being on site twice a week greatly enhanced my classroom experience and really helped piece together a lot of my textbook learning."
Elizabeth Pockl '14: Settling Refugees in a New Land
Elizabeth Pockl spent the summer interning at the International Institute of New England, a nonprofit that provides support to refugees and asylum seekers settling in Manchester and Nashua. She writes about her experiences.
There are people in your life who have a profound impact on your view of the world. Working with a family of newly arrived refugees from Kenya had this impact on my understanding of life.
I remember visiting them. The moment I would knock on the door, sounds of laughter and joy would pour out. Stepping into their house, I felt as if I had been transported to their home country. Smells of coconut, curry, and unknown spices filled the air.
As we went through the formalities of the home visit, conversations of new experiences and gratitude were expressed. Native foods were always present during these visits – I particularly remember a root vegetable dish called fufu – and the tastes and sounds of a happy family were more than enough for me to realize that no matter how unfortunate our lives may be, there is happiness in store for the future.
Being able to help the new arrivals build their new homes on a base of care and stability is one of the greatest experiences I have had. My internship helped me realize that I am passionate about other cultures, and I am passionate about helping people. My goal is to seek a career based on helping and providing for others.
– Elizabeth Pockl '14
Kian Stewart '14: Learning By Design
Kian Stewart hopes to find a job doing in-house graphic design. This spring, he interned with Keene State's Marketing and Communications Office, an experience he writes about here.
This internship was my first experience with graphic design outside of the classroom, so I approached the opportunity with an open mind and excitement.
At Marketing and Communications, I worked with designers, writers, editors, photographers, faculty, and clients. Working with a team at this level has been eye opening. I am learning how many people are involved in the design practice, and to interact with people of different backgrounds. For example, I was assigned to design a poster for Diverse Voices, a speaker series on campus. I got content from a staff writer, communicated with a client through a file-sharing program, bounced ideas off a staff designer, and came up with a poster that met the College's style guidelines.
The internship was a positive experience for me as a design undergrad. I look forward to taking the knowledge I have gathered and using it to pursue a career in graphic design.
– Kian Stewart '14
Related Stories