KSC's Corporate Connector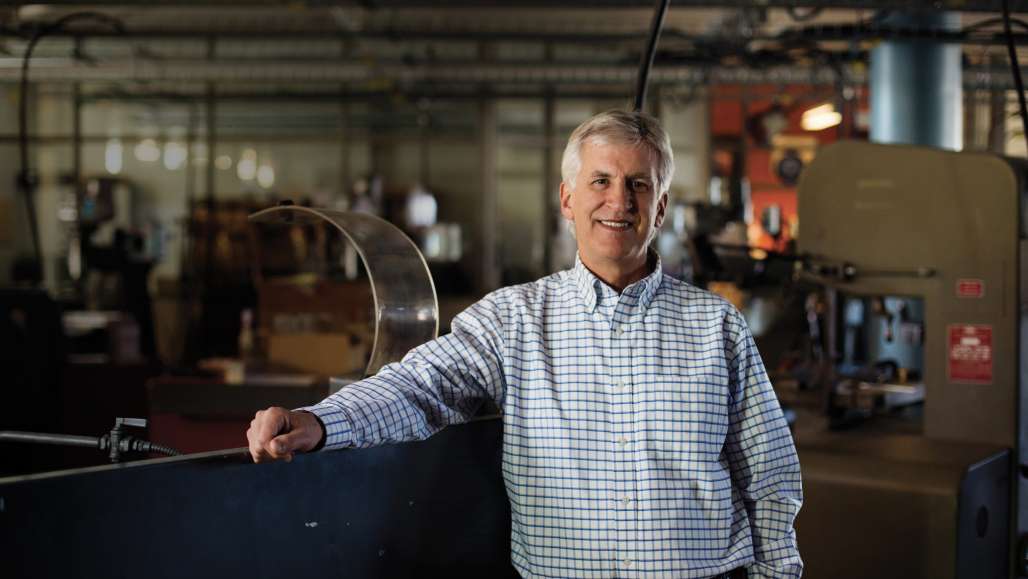 Need Workers? We've Got 'Em…
The state's businesses and industries are growing. That's terrific news. The workforce, however, is aging, and the skillset changing.
Those, say Daniel Henderson, are great problems for a New Hampshire college to help solve. As Keene State's corporate relations officer, a position created in 2012, Henderson spends a lot of time talking with business leaders. The conversations, he says, almost invariably revolve around one question: Where are they going to hire the talent to keep their business thriving?
"We have a lot of students from New Hampshire," Henderson notes, "and a lot of students who stay in New Hampshire after they finish college" – and will be looking for jobs. The College is fortunate to count many companies in the state as partners on specific projects and capital campaigns, and some faculty members regularly network with individual businesses. But Keene State hasn't had formal and ongoing relationships with the companies that have jobs to offer.
Henderson, who came to KSC after a long career in the corporate world, is working to change that – one business at a time. He's been bringing faculty members from various disciplines to visit businesses in fields ranging from technology to banking to biotech to filmmaking to automobile sales and more. The idea is to learn about what they do, find out what their needs are, and talk with them about KSC's programs and curriculum.
Some of the positions these companies offer require specific skills acquired through a science or technology major, while others are open to graduates with degrees in the arts and humanities. But all of the business leaders put an emphasis on the so-called "soft skills" that form the basis of a liberal arts background, Henderson notes. "Basic skills like showing up for work on time. Drive, individual initiative. Ability to work in teams.
Resourcefulness, problem solving, analytical skills, good oral and written communication skills, presentation skills – those are all really important things to have. And I think that's one of the strengths of a liberal arts college – critical thinking."
The connections that are being forged could lead to internship and co-op opportunities for students, curriculum developed in response to specific industry needs, more visibility for the College in the business and industry community, more workers for New Hampshire companies, and more jobs for Keene State graduates.
One recent success story: Henderson reached out last June to Hitchiner Manufacturing, a foundry that makes precision metal castings for automotive and aerospace applications. Since then, he's brought faculty members to Hitchiner's Milford, New Hampshire, plant, and senior managers from Hitchiner have come to the Keene State Campus to tour the Technology, Design, and Safety Center, learn about SPDI, the College's Sustainable Product Design and Innovation program, and talk with students.
This winter, one of those students, senior Will Ferguson, accepted a position with the firm. After a year of training at Hitchiner's research and development center, Ferguson will step into an engineering job at the company. And that, says Henderson, "is a home run" for everyone – Hitchiner, Keene State, and Ferguson.
Daniel Henderson can be reached at dhenderson@keene.edu or 603-358-2121.
Related Stories