Mary Alice Taylor '78: Walt Disney's Costume Buyer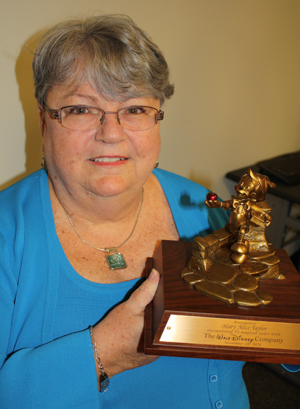 After graduating with an education degree in home economics, Mary Alice Taylor '78 did the expected thing and took a job teaching at Mahar Regional High School in Orange, Mass., though she was just filling in for a teacher who was on maternity leave. That future there didn't look too bright, because Massachusetts had just passed Prop 2 1/2, a bill that eliminated all "unnecessary" teaching positions, including home ec. So when former neighbors then living in Orlando stopped to visit and mentioned that there were plenty of jobs down that way, Taylor packed her bags—and her sewing machine—and headed to Florida.
The day after she visited the Magic Kingdom, she was hired full time. "I initially started at the 'Talent Window' at the Magic Kingdom (which was the only park at the time), issuing and receiving costumes for the singers, dancers, musicians, and Christmas Parade "face" performers, including Santa Claus," Taylor recalled. "Starting on the closing shift, I did plenty of laundry!"
She worked her way up through the ranks and eventually took over as costume buyer. She was recently honored for 35 years of impressive service. "Throughout the course of my career, I've been fortunate to work Orange Bowl parades and half-time shows, Super Bowl half-time shows, the Radio City Music Hall Summer Show, and work with celebrities such as Dick Van Dyke, Dean Jones, Michelle Lee, Rick Shroeder, Betty White and the Golden Girls, Carol Lawrence, Nell Carter, and Rosemary Clooney. And, being the sports enthusiast that I've always been, I was delighted to work with many past Olympic team members during a USOC fundraiser at Epcot in 1984."
Besides the sewing skills that served her so well during her career, Taylor said that Keene State taught her flexibility, social skills, and adaptability, and exposed her to people from different walks of life so that she learned how to work with many different people. All skills that have come in very handy.
Related Stories