Lisa Bianconi M'99 a Grammy Finalist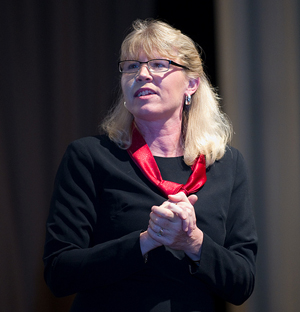 The bucolic 280-acre campus of Kurn Hattin Homes for Children, a residential school serving children from disadvantaged backgrounds in Westminster, Vermont, is probably the last place you'd expect to encounter a Grammy nominee, but that's where you can find Lisa Bianconi M'99. Like a bridge over troubled waters, Bianconi, the music director at Kurn Hattin, uses music as a soothing and inspiring diversion for Kurn Hattin students who are affected by tragedy and social or economic hardship.
Drawing great enjoyment and satisfaction from her all-encompassing job, teaching general music classes as well as directing the marching, jazz, and concerts bands and several choirs, the Rutland, Vermont, native and Keene State grad found herself in the spotlight last spring when she was nominated for the first-ever Music Educator Award presented by the Grammy Foundation. Nominated by Kurn Hattin Homes' Co-Executive Director Connie Sanderson, Bianconi shot up the charts like a Taylor Swift single, reaching the quarterfinals and then the semifinals before finishing in the top-10 in the new category—an impressive high note when you consider there were 30,000 initial applicants from all 50 states.
"I am deeply honored to be recognized by this award," Bianconi said. "The support of Kurn Hattin's staff and students over the past 29 years has been amazing. They have allowed me to spread the joy of music, and I'm so thankful to teach here."
"When you see Lisa's passion for teaching children and using music as a tool to make a difference in their lives, it seems only natural that she would be chosen as a finalist," said Sanderson. "Lisa creates an educational environment that is infused with excitement, and she brings out the best in every child."
Bianconi's passion for music and working with children goes back to her days growing up in Rutland. Playing piano at the age of five and later joining her junior and senior high bands on the clarinet, Bianconi began giving private lessons before going on to major in music and education at Notre Dame College in Manchester, New Hampshire.
While Bianconi had her choice of jobs coming out of college, she chose Kurn Hattin because it offered her a chance to teach both instrumental and vocal as well as general music. Working with a wonderful and special group of kids, Bianconi soon realized the need to have counseling skills in the classroom. She began a master's program at Keene State, taking courses while continuing to work at Kurn Hattin. "The Keene State faculty was outstanding and very supportive," said Bianconi. "I think they liked that I was able to bring in a lot of classroom scenarios to my college classes."
Completing her degree in curriculum and instruction, a busy Bianconi, who also works in other area schools and gives lessons, realized the magic that music brought to the Kurn Hattin children. "I think the kids here never felt a lot of happiness in a school situation," she said. "We have only 105 students and every one of them is in the music program. The kids here are extremely special and the school supports and advocates for music education and understands the importance of art in children's lives."
Overseeing a program that produces over 35 concerts a year is more than a one-person job. Bianconi's staff includes assistant director and KSC grad Jen Leonard '99 as well as student teachers, including student teachers from Keene State, who cross the Connecticut River to gain the unique experience of working at Kurn Hattin. Amy St. Louis, a senior music education major at KSC, worked at the school this past semester.
"It's amazing. Every day is different, and I like that," said Leonard, who is from Bellows Falls, Vermont. "Kids who normally wouldn't do music in the public school setting try a lot of things here. They solo and pick up different instruments, and it has a positive impact on them."
"It's been a wonderful experience. I really love it here," said St. Louis, a Nashua, New Hampshire, native. "It's a totally different environment than most schools I've been at. It has its challenges, but I learned a lot from it and it had definitely made me a stronger teacher and musician."
Both Leonard and St. Louis say that working with Bianconi added to their experience. "There are so many things going on here during the year, so she really kept me on my toes," said St. Louis. "Lisa really loves the kids and loves music. You can see how dedicated she is every day."
Biaconi's dedication and infectious love for music and her students made her an ideal candidate for the Grammy honor. It was only appropriate that Bianconi, who recently turned 50 and has five children, found out about her top-10 Grammy finish after directing the Kirn Hattin Select Choir in a concert with award-winning fiddler Natalie MacMaster in Brattleboro. The honor brought national and regional attention not only to Bianconi, but to Kurn Hattin as well. "It was really crazy and humbling, but I was more pleased about the recognition it brought to Kurn Hattin," said Biaconi.
Bianconi and her students recently returned to the stage at Kurn Hattin for a special ceremony where Grammy Foundation Senior Vice President Kristen Madsen presented matching $1,000 honorarium checks to Biaconi and Kurn Hattin on behalf of the Foundation and Recording Academy. Madsen told the Kurn Hattin students, "Mrs. Bianconi won this award because she not only teaches you music, but also fills your hearts with caring love, respect, and confidence."
Following the reading of a proclamation issued by Vermont Governor Peter Shumlin, congratulating Bianconi for her achievement and excellence in the field of music education, Kurn Hattin's longtime music director stepped forward to accept the honor. Thanking Kurn Hattin's leadership for its strong support for music in the curriculum for 120 years, Bianconi donated her own $1,000 honorarium to the school, saying, "I am proud to be your teacher. I have learned a great deal from you. You are resilient and strong."
Related Stories